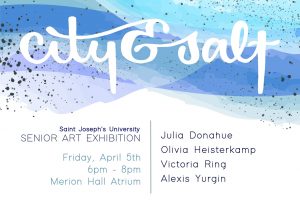 Senior Art Thesis Exhibition
April 5 – May 18, 2019
Reception: Friday, April 5, 6-8pm
Julia Donohue
Olivia Heisterkamp
Victoria Ring
Alexis Yurgin
Victoria, Olivia, Professor Krista Svalbonas, Julia and Alexis
The senior art majors present their theses in varying mediums and themes.  This exhibit is the culmination of their yearlong art capstone course.  These young artists express their identities and visions that they have developed through their experiences and instruction during the course of their college careers.
JULIA DONAHUE
https://juliadonahuephoto.com
My photography explores the relationship with the people of Philadelphia and the streets surrounding them. I am influenced by the energy of the city; from the Philadelphia art museum, to the sports fans, to the hundreds of different cheesesteaks joints to try. Philadelphia offers something that no  other place in the world echoes time and time again, love. My work strives to capture the electricity of this city.
My mother's side is originally from South Philadelphia, we are proud Philadelphians. My great grandfather used to own a hardware store on Ritner street. My mother's side is Italian, so I have been surrounded by the seven fish meal, making homemade gravy and pitzels my entire life. My mom is a Philly girl, and used worked in the heart of Philly, Broad Street. She worked at Bellevue at Pierre and Carlo, a high end hair salon, and at the historic Wannamaker's as a buyer. There is a strong connection between my family and Philly because of my mother's side. We love the food, the atmosphere, the crazy fans, because we are one of them. This is the city of brotherly love, and I am proud to say it.
My exhibit, "Hand-made in Philly" incorporates 24 pictures printed on cotton. I chose cotton for its "all American" routes and it use in sports clothing, and each cotton piece is hand sewn together by myself. Piece by piece, I constructed a map to illuminate the people and streets of Philadelphia. In and around the map, I sowed the county line of Philly using words that are associated with Philly,  like; jawn, Reading Terminal Market, and Rocky.
I have shot these photos since the Pope visited here, in September 2015. Each picture captures a candid moment. I chose not to capture the typical iconic scenes of the city like the  rocky steps or city hall. Rather I aimed to show the real, spontaneity and vibrancy of the city I am proud to say I was born in.
ALEXIS YURGIN
alexisyurgin.com

Still Here began with explorations of Wildwood, New Jersey. I had passed by these buildings so many times in my youth and never recognized the beauty in them until I visited in the off season. Although New Jersey beach towns seem deserted in the winter, these structures stand proudly while awaiting summer to house new and returning beach goers. The more time I spent wandering Wildwood, the more I began to appreciate the 60s-inspired themes that each motel wore on its exterior. The repetition of color can be appreciated in the off season– the stillness paired with the sound of the wind and waves allows for less distractions and more focus on the structures themselves. In order to accentuate the strong geometrics of the buildings, the 35mm analog photos are framed tightly around the lines of each structure, while railings, doorways, and building edges act as each image's natural edge. The series is printed on wood and glass, referencing the raw materials used in most of Wildwood's buildings. Whether it's a motel, home, apartment, or structures that house people, they all have a story to tell, and Wildwood has plenty behind each colorful door.
VICTORIA RING
My current body of work is focused on ocean life affected by plastic pollution and overfishing. This is an important issue to me because of my summers spent on Cape Cod. The beauty of the Cape Cod National Seashore has inspired me to use my voice and act. This stretch of coast land is a fragile ecosystem. The removal of even one species can have catastrophic effects on the area. This series is inspired by Cape Cod marine life because of their famous oysters. These oysters were almost fished to extinction in the twentieth century. Regulations and awareness have helped this species rebound but their fight is not over. Shellfish populations are still low, and pollution has caused their shells to weaken. This series highlights the beauty of their shells and the treasures within these meek creatures.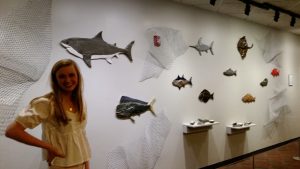 The centerpiece of this project is a Great White shark. They have become endangered through overfishing and collisions with ship vessels. There are estimated to be less than 3,500 left in the world. Another central element of this project is a Blue Fin Tuna. Blue Fin Tuna are the number one endangered fish species in the world. Overfishing of this species is caused by their high market value and popularity in the sushi industry. I have also sculpted other depleted species including Atlantic Salmon, Halibut and Mahi Mahi. Mahi Mahi is a highly sought-after game fish. Conservation of these species will help protect the oceans for future generations. My goal is to raise awareness of these issues caused by Global Climate Change. Nothing in natures happens in isolation. When we change our behaviors, they will have a positive chain reaction.
OLIVIA HEISTERKAMP
Adrift: (adj.) not anchored; moving with the sea & wind;
floating without being moored or steered
This body of work is Adrift. I am drawn to water because it is full of contradiction; it is calm yet chaotic, life giving yet treacherous, constant yet unpredictable. It is full of history and necessary to our being. Through painting it, I feel its rhythm and movement and spirit. I aim to capture the beauty in the untouched, applying whimsy with sureness.
I am able to place value in the moment and pull what I need from the water, just as I hope the viewer is able to do. Its contradictions become its strengths as we see what we need to see. Adrift captures a variety of these needs – tranquility, a push, reassurance, and relief.
As I continue painting water I aim to continue transforming vast spaces on small canvases. I have set only two parameters: smaller canvases are for larger expanses where shoreline and skyline can exist in a condensed space; larger canvases are for close up, in depth depictions of water entangled with light. This juxtaposition of big meets small and vice versa mimics the contradiction of the waves themselves.
Let the water hit your feet as I invite you into my world of miniatures.