November 5 – December 7, 2018
Artist Talk:  November 15, 11:30am – 12:30pm
SOPHISTICATED CHAOS
Inspired by scenes of complex forms, this exhibition of watercolor paintings uses structures as a vehicle to explore the physicality of material, technique and subject. Pushing the boundaries of watercolor, these works merge art, design and architecture which dissolve into varying levels of abstraction. The painting approach is as much a part of the work as the subject—with marks, drips and splatters all becoming part of the final piece. The results are images that are bold yet beautiful, muscular yet elegant, suggestive and evocative.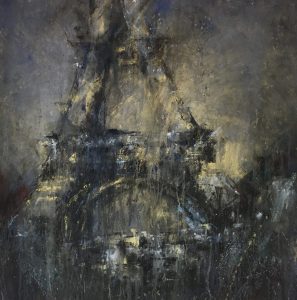 Originally from Chicago, Ken Karlic studied architecture, painting and graphic design at the University of Illinois in Urbana-Champaign and received a BFA. He is a founding partner of the Baltimore-based graphic design firm Splice Design and teaches painting workshops nationally. Ken lives and works in Bel Air, Maryland.
Ken regularly exhibits throughout the Mid-Atlantic region and participates in national juried plein air competitions including Plein Air Easton, Door County Plein Air and Cape Ann Plein Air. He has recently been featured in The Art of Watercolour, PleinAir Magazine, Fine Art Today and Voyage Chicago. In addition, Ken wrote, "Sophisticated Chaos with DANIEL SMITH Watercolors, Step by Step Painting Large Scale" for Daniel Smith Art Materials, which was distributed to their global community of professional artists, retailers and distributors.