Student Ceramics Exhibition
by Devon D'Andrea '20, Gallery Exhibition Research Assistant

Kristin Skeuse '18
Ceramics is an art form dating back to prehistoric times that involves heating and cooling an inorganic solid to create a desired shape. Ceramic vessels have been used functionally and decoratively by almost every culture in the world. This medium is noted for its demand of patience, craftsmanship, and artistry.
Led by Jill Allen, the Advanced Ceramics students offer pieces that express accomplished freedom and personality. Neil Patterson guided Ceramics I students in learning the foundation of ceramics, with pieces displaying a full understanding of shape, texture, and balance.
These works are by art majors and minors, as well as by  work from students who double major or major in disciplines other than art. Although there is no common theme among the pieces exhibited, Allen and Patterson both feel that both the beginner and advanced compositions display the students' hard work and personal artistry. The variety and diversity of the work these students have produced is a representsation of the diversity of the students' approaches .
Joseph Grevera, Class of 2018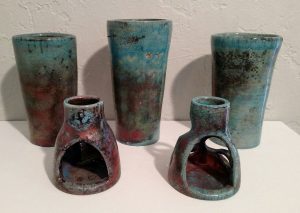 The pieces Joe, a  major, included in this show are representative of trial and error, and he considers them to be works that he feels are personal success stories. Much of his current work revolves around exploring a certain process, with the final product being more representative of the process than of the form itself. One of his works, a set of three vessels, was created using traditional Raku firing techniques, and are displayed in order according to the length of firing time, the shortest being the most copper in tone, and the longest being the bluest the longest.
Alexandra Herrera, Class of 2018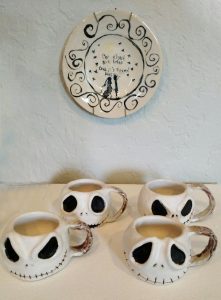 In creating the set of sake cups and an accompanying sake jar, Alexandra, a  major, was inspired by a traditional sake set her grandmother gave her, as well as a trip to Japan when she was a child. The sake jar is rounded and natural, a personal take on traditional cylindrical sake jars. Similarly, the set of Nightmare Before Christmas themed cups and Corpse Bride plate are reminiscent of the movies she loved growing up. All of Alexandra's works were created all of her works using a non-traditional process, looking at the design process as a culmination of multiple techniques to perfectly represent her vision.
Christopher Stevens, Class of 2018
Christopher, a senior Biology major, floored instructor Neil Patterson with his enthusiasm and talent. One of his pieces, inspired by Avatar: The Last Airbender is a vase meant to replicate an artifact from The Fire Nation, a fictional culture from the show, while employing fundamental pottery techniques.
https://www.instagram.com/sjugallery/