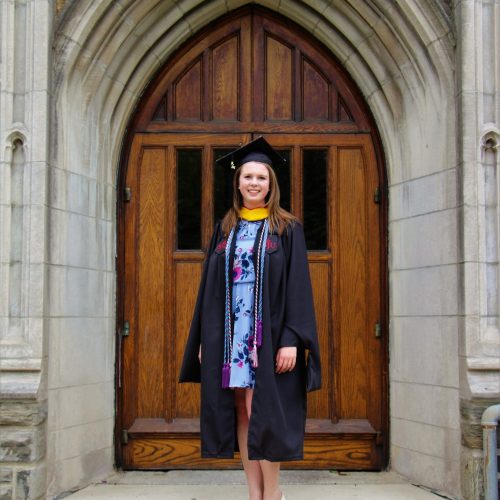 Major:
Education - Early Childhood Education, PreK-4
Minors:
Autism Behavioral Studies, Faith-Justice Studies
Position:
3rd Grade Special Education Teacher
Company/Organization:
String Theory School Philadelphia Performing Arts Charter School
Describe your current role.
"I am currently working in South Philadelphia as a 3rd grade Special Education teacher in a co-teaching classroom. This position allows me to work closely with my 3rd grade team in planning for instruction and to then utilize those plans to provide accommodations and modifications for my students who have a diagnosis. Within my position I am responsible for 12 students with Individualized Education Plans (IEPs) and work closely with them each day to focus on their skills both academically and socially. Many of my students have a specific learning disability diagnosis which I support through smaller group activities, modified assignments, and varied expectations in the inclusion classroom setting. I also support these students in a smaller setting outside of the classroom using a different curriculum that supports what is used in the whole class instruction. This smaller setting provides my students with additional support and practice with the skills they are learning in the inclusion classroom."
How did you first learn about this opportunity?
"As I completed my master's degree at Saint Joseph's University, I worked as a graduate assistant for the Educational Leadership Department. This position allowed me to work closely with the faculty and staff throughout the Education Department. Once I left the department in search of my future job, I stayed in contact with those I worked with. This led me to receive an email about job positions open at a school the university sent many students to for field placement throughout their undergraduate career. Focusing on positions available in the special education field led me to apply to the current position I have. When I considered the position in South Philadelphia I looked at it as a way of challenging myself to use the skills and knowledge I had learned in a setting I hadn't thought about. It was through my Saint Joseph's University connections that I was made aware of the position and found to be an appropriate candidate for the job."
How did your SJU education impact your professional goals?
"Saint Joseph's University has taught me many skills that I continue to use today in the field of education. Many of my classes taught me about the history, methods, research and philosophies used within the education field. It is through my field experience that I was able to put what I was learning into action as an undergraduate student. My love for teaching and working with those with special needs challenged me to complete my Masters in Special Education with the hope to work with those who are autistic. Although I am not working with those who have autism in my current position, it is through my work and my education that I am motivated and challenged to meet that goal. If it weren't for the connections I made through Saint Joseph's University I would not have had the opportunity to look into the school I am working for and ultimately choose to work as a 3rd grade Special Education teacher in a co-teaching classroom."
Did you participate in any experiential learning activities while at SJU?
"I was actively involved in the university when I was an undergraduate and graduate student. The activities that impacted my career most were involvement in the Kinney SCHOLARS Program, Study Abroad experience, and participating in Hand in Hand. I chose to attend Saint Joseph's University for my graduate degree as a result of the Kinney SCHOLARS program. Working through this program for four years taught me skills that I use in my classroom today. It also drove my ambition to work with those who have autism. My study abroad experience in Galway Ireland allowed me to learn about how other countries approach teaching. Through my coursework there, I was able to volunteer with an elementary school and focus on the need for literacy throughout the city of Galway. Lastly, my experience in working with Hand in Hand pushed me out of my comfort zone to connect with and encourage my peers to work with those who have disabilities. Sharing my joy in working with the special needs population is one of the most rewarding aspects of the program that works throughout the year to plan a carnival for adults with disabilities. Is it through these experiential learning activities that I was able to connect my studies to my actions outside of the classroom setting. The lessons I learned in these roles made my SJU experience unique and challenged me to keep learning beyond my undergraduate career."
How did the education department impact your time at SJU?
"The connections made with professors and with my field placements over the years continue to impact me as I work in the field of education today. Asking for advice or feedback in each experience has continued to help me make decisions that get me one step closer to my career goal. The program at SJU allowed me to explore educational placements over the years and has given me the resources and knowledge about the field and myself that challenge me to keep reaching for my personal career goal."