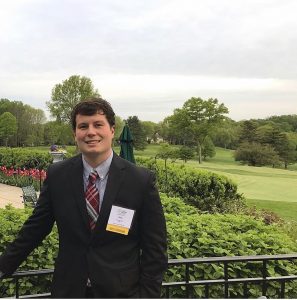 Christopher Alexander '15 '17 (MBA)
Major(s):
Finance, Risk Management & Insurance
School:
Villanova University Charles Widger School of Law
A Two-time SJU grad
Two-time SJU graduate Christopher Alexander is grateful for the "countless influential faculty members who have helped shape who I am today."
As an undergraduate student, Chris was a founding member of the Dean's Leadership Program and a member of Gamma Iota Sigma, the risk management, insurance and actuarial fraternity. As a graduate student, he became involved in the alumni association and worked as a graduate assistant in the MBA office.
Next Step: Law School
After being accepted to a number of schools, Christopher decided to enroll in Villanova University's Charles Widger School of Law.
"I hope to practice law as a corporate lawyer," he says.
How do you feel your SJU education prepared you for your career goals?
"I believe my SJU degree, coupled with my academic and professional experience, has prepared me to enter the job market and will propel me to success in any or all of my career pursuits."