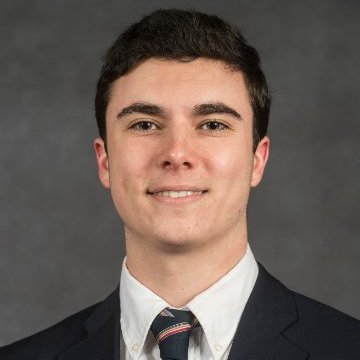 Majors:
Finance, Financial Planning
Position:
Insurance and Risk Management Advisor
Briefly describe your role.
"Each day I help companies by reviewing their current insurance programs and identifying areas in which they can improve to help properly protect their company from loss. To learn the ins and outs of a company's operations and discover how they were able to build it to the successful enterprise that they are today is the favorite part of my job. It is also the reason why I want to make sure that everything that they have worked so hard for is in the right program for them."
How did you first learn about this opportunity?
"I first learned about Brown & Brown Insurance at the Saint Joseph's University Fall Career Fair during my junior year. At first I had stopped by their table to introduce myself and have a brief conversation with them, just as I had with other companies before them and would have with other companies after them. However, I ended up speaking with the two representatives, one of them being a Saint Joe's alum, for nearly an hour and left with a scheduled interview. I ended up interning for Brown & Brown that summer and then joined them full-time after graduating."
How did your SJU education impact your professional goals?
"I had entered Saint Joseph's University as a Finance major but also knew that I wanted to have the opportunity to help people so I picked up a double major in Financial Planning. One of the classes required to complete the Financial Planning major was Introduction to Insurance. After completing Professor Angelina's class and my internship with Brown & Brown, I realized that in joining Brown & Brown full time as an advisor I would be able to put my education to use as well as help people and their companies everyday."
Did you participate in any experiential learning activities while at SJU?
"I participated in an internship with Brown & Brown Insurance during the summer following my junior year before my senior year."