We are happy to announce version 1 of our new Faculty Listing tool.
This tool will allow Academic Departments to display a listing of faculty members on their websites; this listing is synced with our main University Faculty Profiles, so there is no need to keep multiple sources of content updated – this is a "set it and forget it"!
To use the Faculty Listing tool, send a message to the Web Services team, and we will activate it on your site.
Creating a Faculty Listing
Once the listing tool is activated on your site, creating a faculty listing is simple.  Add a new page and give it a title ("Our Faculty" or simply "Faculty" is appropriate).
Over in the right sidebar, under the "Publish" section, there will be a special area with "Page Attributes".  In this area, change the Page Template to Faculty Listing.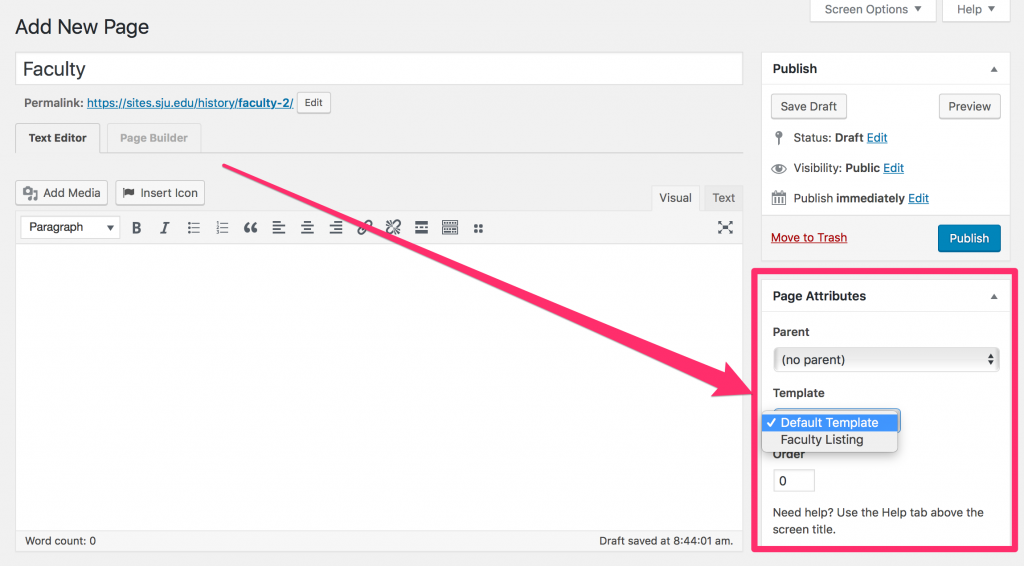 Selecting your Department
Once you have selected the Faculty Listing template, new fields will appear above where you normally create your page content.
You can use the select box to choose your department; if you have additional information you wish to display below the listing of faculty, you can include that in the text box below.
Publishing your Page
Finally, publish the page.
If you notice that there are any errors with the listing of faculty, please contact Web Services.  Faculty can make changes to their profiles and the changes should appear on your listing automatically.