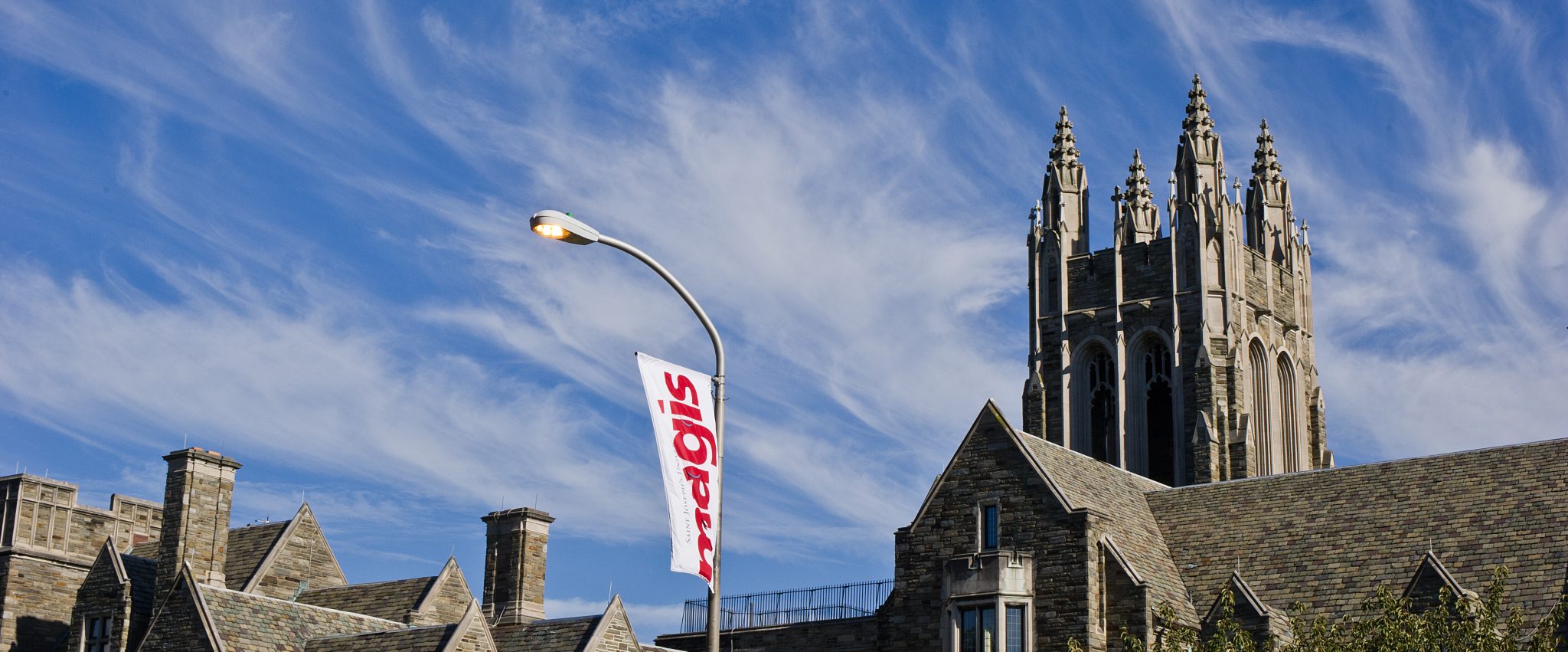 The Donald I. MacLean, S.J. Chair is held by members of the Society of Jesus who are accomplished teachers and scholars in the Arts and Sciences. Established in 1987 through the generosity of lead donors Michael J. Morris '56, Joseph McKinney '52 (dec.) and the Jesuit Community at Saint Joseph's, it is intended to emphasize that the University's Jesuit identity is inseparable from the finest teaching, scholarship and collegiate discourse. The Chair is named in honor of the University's 24th president.
Roles and Responsibilities
The MacLean Chair may be held for a period of 1 or 2 semesters.

Instruction of 1 undergraduate class per semester (at minimum )

Classes taught will fulfill SJU core curriculum requirements

Delivery of a public lecture on a topic related to his expertise or research each semester

Availability to students and faculty for discussion and collaboration via office hours, departmental meetings, etc.

Involvement in campus life

Participation in the Jesuit community at Saint Joseph's
Selection Process and Benefits
The MacLean Chair Committee is co-chaired by the Dean of the College of Arts and Sciences and the rector of the Jesuit Community at Saint Joseph's. Together, they oversee a committee of faculty and Jesuits who review applications for the position.
Qualifications required of candidates include:
Member of the Society of Jesus
Accomplished scholar
Qualified to teach
Expertise in a subject area that is part of SJU's curriculum
Benefits of the position include:
Salaried compensation

Designated office on campus

Ample time for research and writing

Stipend to support scholarship
Current Chair Holders
---
Name: Paolo Gamberini, S.J.
Area of Expertise: Systematic Theology (Christology & Doctrine of the Trinity) and Contemporary Theology in dialogue with other faith traditions and religions.
Current Appointment: Cappella Universitaria "La Sapienza"
Term as MacLean Chair: Fall 2022/Spring 2023
Spring 2023 Lecture: April 4, 2023 @ 5:00 pm President's Lounge
Topic: Resurrection Without Miracle. Rethinking Easter in a Post-theistic Paradigm
Video Link: http://www.kaltura.com/tiny/0t9ew
Office: 208 Bellarmine Hall
---
Former Chair Holders:
| | |
| --- | --- |
| Fall 1999 | Rev. Thomas M. McCoog, S.J. (Archivist of the British Province of the Society of Jesus, History) |
| Spring 2000 | Bro. Guy Consolmagno, S.J. (Vatican Observatory, Physics) |
| Fall 2000 | Rev. Kevin Burke, S.J.(Weston Jesuit School of Theology, Theology) |
| Fall 2000 – Spring 2001 | Rev. Jeff Klaiber, S.J. (Catholic University of Peru, History) |
| Fall 2001 – Spring 2003 | Rev. Patrick Samway, S.J. (Saint Peter's College, English) |
| Fall 2003 | Rev. Dean Brackley, S.J. (University of Central America, Theology) |
| Spring 2004 | Rev. Rob Faesen, S.J. (University of Leuven, Theology) |
| Fall 2004 – Spring 2005 | Rev. Alvaro Ribeiro, S.J. (Georgetown University, English) |
| Fall 2005 | Rev. G. Ronald Murphy, S.J. (Georgetown University, German) |
| Spring 2006 | Rev. Stephen Rowntree, S.J. (Loyola University, New Orleans, Philosophy) |
| Fall 2006 | Rev. Stephen Fields, S.J. (Georgetown University, Theology) |
| Spring 2007 | Rev. Raymond A. Bucko, S.J. (Creighton University, Sociology) |
| Fall 2007 | Rev. Richard A. McGowan, S.J. (Boston College, Economics) |
| Spring 2008 | Rev. Amedeus Shirima, S.J. (Arrupe College in Harare, Zimbabwe, Philosophy |
| Fall 2008 | Rev. Thomas Massaro, S.J. |
| Spring 2009 | Rev. Dennis Leder, S.J. |
| Fall 2009 | Rev. Joseph Brown, S.J. |
| Spring 2010 | Rev. Dudley Mendonca, S.J. |
| Fall, 2010 | Rev. Bruce Morrill, S.J. (Boston College, Theology) |
| Fall 2011 | Rev. Jose Badenes, S.J. (Loyola Marymount University, Foreign Languages &Literatures) |
| Fall 2012 | Rev. John F. Wrynn, S.J. (Saint Peter's College, History) |
| Fall 2013 | Rev. Aquiline Tarimo, S.J. (Hekima College, Constituent College of the Catholic University of Eastern Africa, Nairobi, Kenya, Theology) |
| Fall 2014 | Rev. T. Michael McNulty, S.J. (Marquette University,  Philosophy) |
| Fall 2015 | Rev. John Martis, S.J. (Pilgrim Theological College, Philosophy) |
| Spring 2016 | Rev. Xavier Savarimuthu, S.J. (St. Xavier's College [Autonomous], Environmental Studies) |
| Fall 2017 | Rev. Robin S. Seelan S.J. (Loyola College, Chennai) |
| Fall 2018 – Spring 2019 | Rev. Manuel Gilberto Hurtado Duran, S.J. (Bolivian Catholic University, Theology) |
| Spring 2020 | Rev. John J. Paris, S.J. (Boston College) |
| Spring 2020 | Rev. Joseph Puliparambil, S.J. (Marian International Institute of Management, Kutikanam, India) |
| Fall 2020 -Spring 2022 | Rev. Andreas Gosele, S.J. (Saint Joseph's University, Philadelphia, PA) |