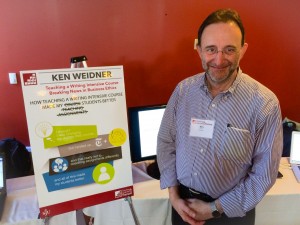 The Writing-Intensive Summer Seminar will not be held the summer of 2020.
The "Teaching Writing-Intensive Courses" faculty development initiative is aimed at keeping innovative and effective teaching central to Saint Joseph's University educational mission.  "Teaching Writing-Intensive Courses" funds up to six tenure-track faculty and/or adjunct instructors for participating in a summer seminar that examines the best practices for teaching writing across a range of disciplines.
Sponsored by the Office of the Provost, the seminar is open to faculty from both colleges. Melissa Goldthwaite, professor of English, and Jenny Spinner, associate professor of English and director of the Writing Center, lead the three-week seminar in May thru early June.
The seminar is designed to provide participants an opportunity to develop or redesign the syllabus of a course they teach on a regular rotation.  It is divided into four parts.  In the first two weeks, participants will evaluate their teaching in light of best practices for teaching writing; they will consider how their assignments enable students to write to learn, to develop their capacity for critical thinking, and to communicate clearly through writing. Participants will learn strategies for responding to student writing and for conducting peer response and workshops. In the final week, participants will begin constructing syllabi and discuss model assignments to teach discipline-specific conventions for writing. Participants will also present the sequence of assignments they have developed and provide an overview of how those assignments accomplish the learning objectives of their Writing-Intensive course. In a follow-up meeting in August, participants will share their finished syllabus with the group and receive feedback from the directors and fellow participants. In the following academic year, participants will be invited to two follow-up meetings to discuss how their Writing-Intensive courses are progressing.
Interested applicants are encouraged to contact the Seminar Directors for further information. (mgoldthw@sju.edu,jennyspinner@me.com)
As a result of participating in this seminar, faculty will be expected to revise substantially a syllabus from a course they have taught before or to create a new syllabus. A syllabus for a Writing-Intensive course should include assignments that provide students greater opportunities for critical reflection through writing, writing to learn, and writing using appropriate disciplinary forms and conventions.
It is hoped—but not required—that some participants will serve as resource persons for future seminars.  The long-term goal of the seminar is to create an on-going conversation about best practices for teaching writing.