Ordering an Official Sealed Copy of Your Transcript
Log into The Nest
Go to the Classes & Registration Page
Under the Express Lane select Order/Track an Official Transcript
We make every effort to turn around transcript requests within 5 business days of receipt when we are open for business. In the event of any outstanding financial obligations to the University, you will be notified that your transcript request will be returned to you.
Due to privacy considerations, transcripts are not sent via fax. When selecting "other" as the intended recipient you must print the consent form, sign and fax it. You will not get the option to sign the consent form on-line.
Please note that electronic transcripts are not available at this time.
Transcript Fee: $10.00
Rush Hold for Pickup requests (if submitted by 2:00 pm) $20.00. Your transcript will be ready for pickup in Hawk Central the same day as requested.
UPS Overnight delivery service is available, with the requester paying the cost of the overnight delivery service. This cost is an additional $25.00 per each address supplied. UPS overnight orders must be received by our office no later than 2:00 pm for the overnight delivery option.   Please note that a P.O. Box is not an acceptable address for the overnight delivery option.
UPS International shipping fee is $40.00 plus the cost of the transcript.
Transcripts can be ordered online using any major credit card. Your credit card will be charged when your school sends your transcript(s). Order updates will be emailed to you along with text messages if you desire. You may also track your transcript order online.
Click here for additional information from the National Student Clearinghouse about transcript requests, including how to submit your consent form.
---
Viewing Your Transcript Online
To View Your Transcript Online:
Log into The Nest
Select Classes & Registration
Select the Link to access  DegreeWorks
Click on Process New to refresh course information

Select the Unofficial Transcript link to produce an unofficial transcript
Right click within the document that opens and select the option to "Convert to Adobe PDF". This will create a PDF document of your unofficial transcript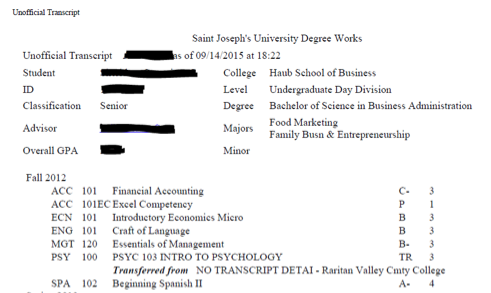 In addition to viewing your unofficial transcript in DegreeWorks, you can view it in The Nest. The unofficial transcript in The Nest allows you to see details (multiple levels, term GPA, etc.) that are not available in the DegreeWorks unofficial transcript.
Login to The Nest and click on the Classes & Registration tab. Scroll down to the Academic Profile area (near the bottom of the screen).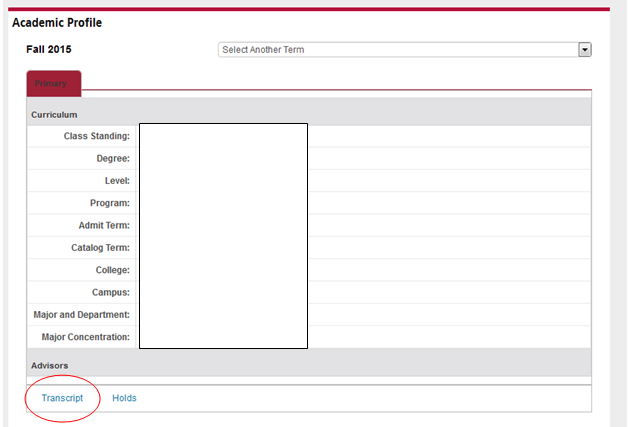 After selecting the current term (or more recent term if a term is not automatically populated), you should see your primary curriculum information for the term. There is a link where you can click on Transcript to view your unofficial transcript.
Click on Submit to view your entire unofficial transcript, or specify the appropriate transcript level (for example, if you just want to view your undergraduate day information).
This version of your transcript provides both term and cumulative credit and GPA information.