What is FERPA?
FERPA is the Family Educational Rights and Privacy Act.
The Family Educational Rights and Privacy Act of 1974 helps protect the privacy of student education records. The Act provides eligible students the right to inspect and review educational records, the right to seek to amend those records, and to limit disclosure of information from the records. The intent of the legislation is to protect the rights of students and to ensure the privacy and accuracy of education records. The Act applies to all institutions that are the recipients of federal aid administered by the Secretary of Education.
---
Who is Protected under FERPA?
FERPA protects the education records of students who are currently enrolled or formerly enrolled regardless of their age or status with regard to parental dependency. The educational records of students who have applied to, but have not attended an institution, are not subject to FERPA guidelines, nor are deceased students.
Parents of a deceased student termed as "dependent" for income tax purposes may have access to the student's education records. A copy of the parent's most recent Federal Income Tax return (where the parents declared the student as a dependent) must be submitted to the Office of the Registrar to document "dependency".
---
In Reference to FERPA, who is Considered a Parent?
The term "parent" refers to either parent, including custodial and non-custodial.
---
What are and are not Education Records?
With certain exceptions (noted below), an education record is any record (1) which contains information that is personally identifiable to a student, and (2) is maintained by the University. With the exception of information about other students, financial records of parents and confidential letters of reference to which the student has waived access, a student has the right of access to his/her education records.
Education records include any records in whatever medium (handwritten, print, email, etc.) that are in the possession of any school official. This includes transcripts or other records obtained from a school in which a student was previously enrolled.
What information is not considered part of an education record?
Sole possession records or private notes held by school officials that are not accessible to released to other personnel.
Law enforcement or campus security records that are solely for law enforcement purposes and maintained solely by the law enforcement unit.
Records relating to individuals who are employed by the institution (unless contingent upon attendance).
Records relating to treatment provided by a physician, psychiatrist, psychologist, or other recognized professional or paraprofessional and disclosed it individuals providing treatment.
Records of an institution that contain only information about an individual obtained after that person is no longer a student at that institution, i.e. alumni records.
---
What Rights does FERPA Afford Students with Respect to their Education Records?
The right to inspect and review your education record within a reasonable time after the University receives a request for access. If you want to review your record, contact the University office that maintains the record to make appropriate arrangements.
The right to request an amendment of your education record if you believe it is inaccurate or misleading. If you feel there is an error in your record, you should submit a statement to the University Registrar who is responsible for the record, clearly identifying the part of the record you want changed and why you believe it is inaccurate or misleading. The Office of the Registrar will notify you of their decision and advise you regarding appropriate steps if you wish to appeal.
The right to consent disclosure of personally identifiable information contained in your education records, except to the extent that FERPA authorizes disclosure without consent. Once exception which permits disclosure without consent is disclosure to school officials with "legitimate educational interests". A school official has a legitimate educational interest if the official has a "need to know" information from your education record in order to fulfill his/her official responsibilities. Examples of people who may have access depending on their official duties (and only within the context of those duties):
University faculty and staff
Agents of the institution
Students employed by the institution or who serve on official institutional committees
Representatives of agencies under contract with the University
The right to file a complaint with the U.S. Department of Education concerning alleged failures by the University to comply with the requirements of FERPA. This can be done by contacting:
Family Policy Compliance Office
U.S. Department of Education
400 Maryland Ave, SW
Washington, DC 20202-5901
---
When is the Student's Consent not Required to Disclose Information?
When the disclosure is (one or more of the following):
To school officials (defined in policy) who have a legitimate educational interest
To federal, state, and local authorities involving an audit or evaluation of compliance with educational programs
In connection with financial aid, including veteran's benefits
To organizations conducting students for or on behalf of educational institutions
To accrediting organizations
To comply with judicial order or subpoena if specified that the disclosure is not to be made due to the interest of justice
In a health of safety emergency
Releasing directory information
Releasing the results of a disciplinary hearing to an alleged victim of a crime of violence
---
What is Considered Directory Information at Saint Joseph's University?
Certain information, known as directory information, may be disclosed by anyone without the prior written consent of the student. While FERPA defines a list of what can be considered directory information, it is at the discretion of the institution to define what is considered directory information. At SJU, directory information is defined as:
Student name
Major/Minor/Certificate field of study
Degree(s) sought or earned
Dates of attendance
Current enrollment status (full/part time)
Class standing
Academic awards received (Dean's List, Latin Honors)
Photographs
Activities/clubs
Height and weight of athletic team members
Most recent educational institution attended
Please note, if an item is not on this list, it may not be disclosed without prior written consent of the student. Addresses, phone numbers, and email addresses of students are not directory information at SJU.
---
How do I Give Permission to a Parent to Discuss Information with Someone from Saint Joseph's University?
To give permission to someone such as a parent, spouse, or relative to discuss Academic Information, Financial Aid, and/or Account and Billing Information with someone from Saint Joseph's University, please follow the below instructions.  Please note this does not give parents access to the Nest and there is no parent log in available.
Log into The Nest.
On the bottom right side of the page under the Administrative Services section, select Student, and then select Parent/Guardian Controls.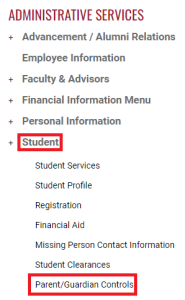 Add Parent button.
Complete the form by selecting what information you are granting access to be shared. Create a password that would be shared with whoever will be granted access. They should share this password with someone from Saint Joseph's University to verity that information can be shared with this individual.
Be sure to save your changes. Please note that you may change your selections at any time.
---
How do I Give Someone Other than a Parent Access to my Information?
Please use this form to grant the University permission to share your information with a third party.