Degree Verification
Saint Joseph's University has authorized the National Student Clearinghouse to provide degree verifications.
Please contact them directly at the following:
National Student Clearinghouse
Web: www.studentclearinghouse.org
Phone: 703-742-4200 Fax: 703-742-4239
E-mail: service@studentclearinghouse.org
Mail: National Student Clearinghouse; 13454 Sunrise Valley Drive, Suite 300, Herndon, VA 20171
---
Requesting a Duplicate Diploma
Click here for information on how to order a duplicate copy of your diploma.
---
Requesting an Official Transcript
The following is required to order a transcript online:
A valid major credit card
An email account
Your signed consent
Click here to visit the National Student Clearinghouse website to order your official transcript. We make every effort to turn around transcript requests within 5 business days of receipt when we are open for business. In the event of any outstanding financial obligations to the University, you will be notified that your transcript request will be returned to you.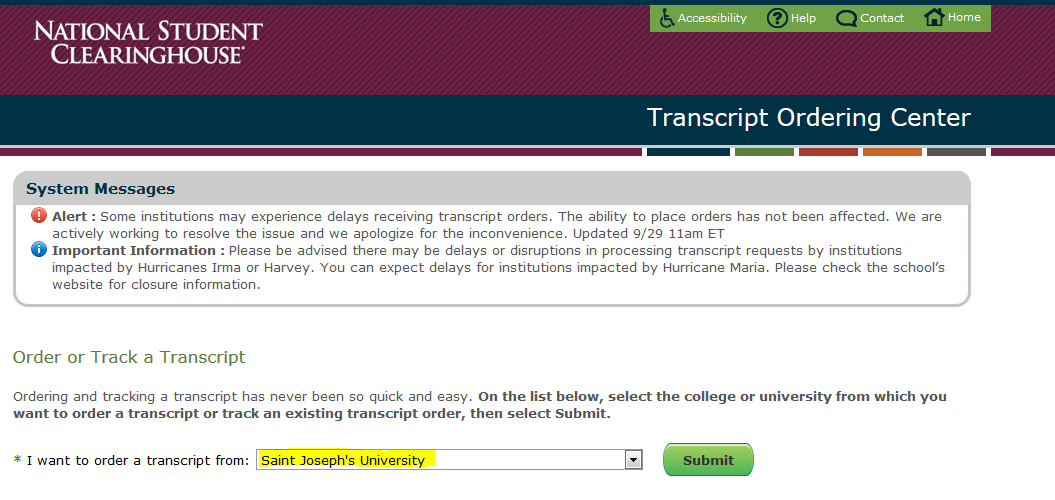 Due to privacy considerations, transcripts are not sent via fax. Also, when selecting "other" as the recipient you must print the consent form, sign and fax it. You will not get the option to sign the consent form on-line.
We do not have electronic transcripts available.
Transcript Fee: $10.00
Rush Hold for Pickup requests (if submitted by 2:00 pm): $20.00. Your transcript will be ready for pickup in Hawk Central the same day as requested.
UPS Overnight service is available, with the requester paying the cost of the overnight delivery service. This cost is an additional $25.00 per each address supplied. UPS Overnight orders must be received by our office no later than 2:00 pm for the overnight delivery option. Please note that a P.O. Box is not an acceptable address for the overnight delivery option.
UPS International shipping fee is $40.00 plus the cost of the transcript.
Transcripts can be ordered online using any major credit card. Your credit card will be charged when the University sends your transcript(s). Order updates will be emailed to you along with text messages if you desire. You may also track your transcript order online.