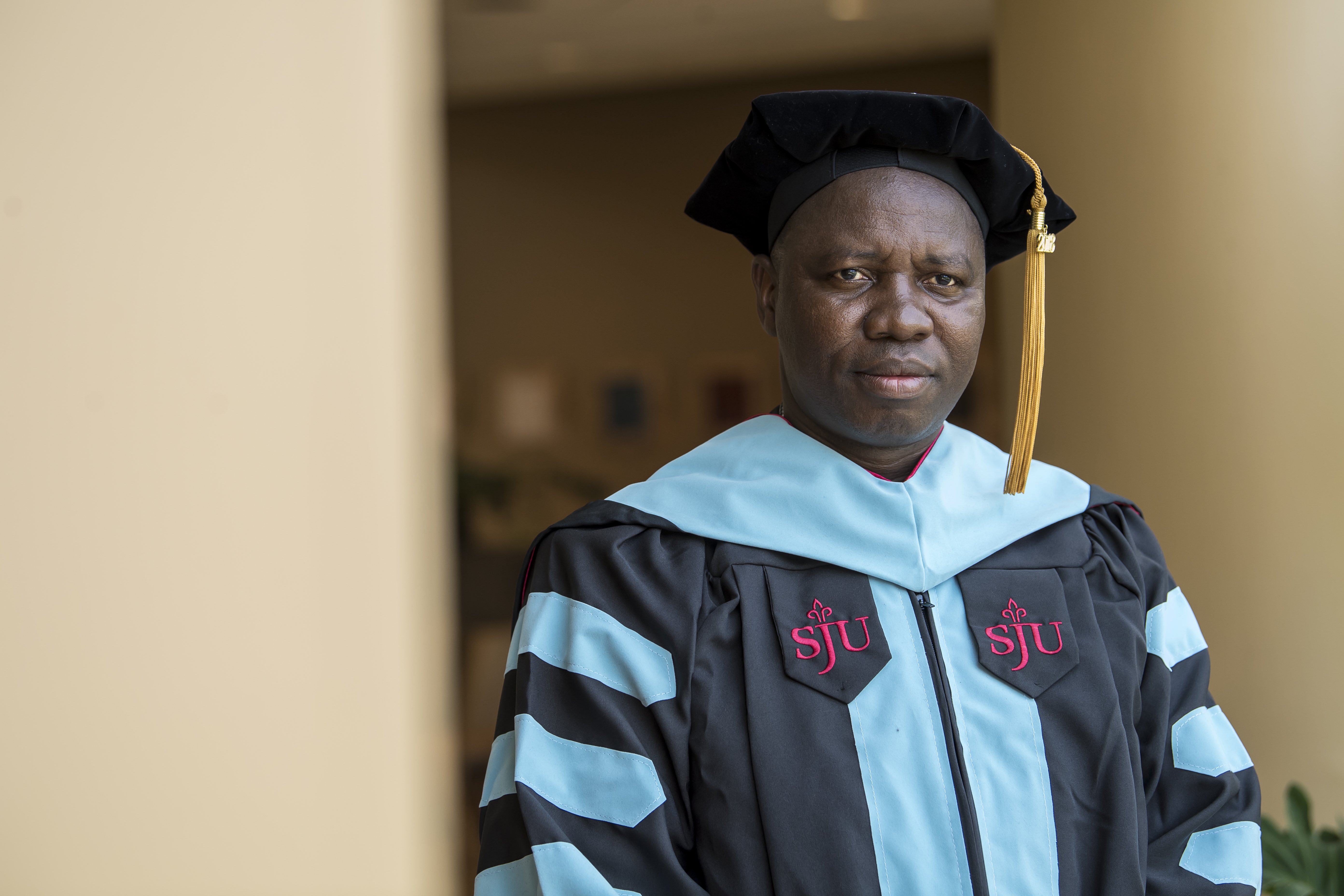 Saye Gono Jr. '11 (M.S.), '18 (Ed.D.)
Grad Degree:
Organizational Development and Leadership M.S., Interdisciplinary Doctor of Educational Leadership
Freshly appointed with an interdisciplinary doctor of educational leadership degree from Saint Joseph's University, Saye Clarence Gono Jr. has come a long way.
Despite the horror he's witnessed in his long journey to SJU graduation, Saye says, "I am very ambitious. I do not get discouraged."
Undergraduate studies interrupted by Liberia's civil war.
In his first semester at the University of Liberia in Monrovia in 1990, the country's civil war, which had begun the previous year, ripped through the land. One evening, soldiers for Liberian Head of State Samuel Doe, a military leader, stormed a Don Bosco compound (a Catholic institution) where Gono and many others had hidden away. Priests there delayed the soldiers from killing them, and the militants moved on to another center at a Lutheran church, slaughtering hundreds of others. Later, the soldiers returned to the compound in the middle of the night to finally eliminate those who remained. Terrified, Gono and several others squeezed together, held aloft behind ceiling panels. Not a sound escaped from the many babies present. He attributes their survival to divine intervention.
Arriving in the United States — and on Hawk Hill
Eventually, as the war escalated, Saye would apply for a visa and fly to the U.S. in 2002 on the generosity of a family friend. After taking a few classes at the University of Pennsylvania, he was unable to continue for financial reasons, and he discovered SJU's organization development and leadership master's degree. With full tuition support through federal aid, he enrolled in 2009 and graduated in 2011.
"I love St. Joe's," Saye says. "It's a learning center. The professors really work with you and want you to get involved."
Saye decided to go back to school again, for SJU's doctorate in educational leadership, so that he could gain expertise to improve the African school system. This past March, he successfully defended his dissertation, and in May, he will cross the stage at commencement, having achieved the apex of higher learning in his field.