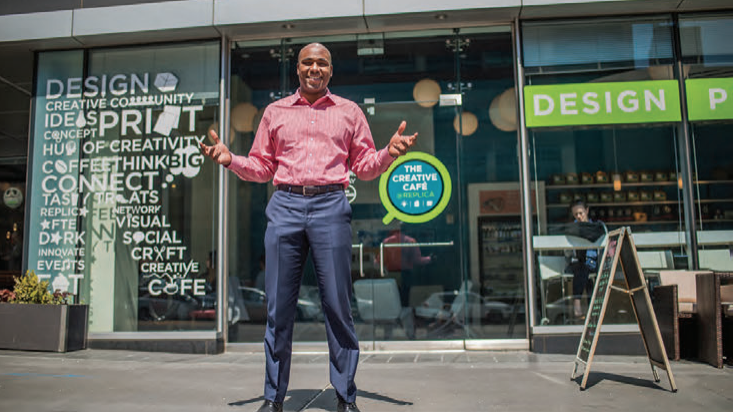 Keith Leaphart, D.O. '01 (MBA)
Building a career in medicine and business
Keith Leaphart, D.O. MBA '01 completed his joint MBA and D.O. degree program at SJU and the Pennsylvania College of Osteopathic Medicine, with the goal of climbing the corporate ladder in health care, eventually becoming a hospital CEO. He began to follow that path, pursuing a rewarding career with Bryn Mawr Rehab Hospital. But then, the training he earned at SJU helped him take on unexpected opportunity — to become an entrepreneur.
Turning a business into a brand
In 2009, Leaphart took over as president and CEO of Philadelphia print innovator, Replica Creative. He had previously run two successful small businesses — a cleaning company and an event planning service — while completing his dual graduate degrees. He could not pass up the new challenge. Scaling back his hospital hours, he worked to expand the business to two new sites in Philadelphia — Creative Café @Replica in University City and Replica's headquarters in Center City — and launched Wallsome, an e-commerce platform for creating customizable wallpaper.
Giving back to Philadelphia
Leaphart says his medical career, entrepreneurial endeavors and philanthropic interests have one goal in common — to set an example. He is also a longtime board member and current chairman of the Lenfest Foundation, which advances the educational and career outcomes of low-income youth in Philadelphia.
Receiving recognition for his work
Energizing the local economy and creative atmosphere of Philadelphia has always been integral to Leaphart's business plan. In 2011, Mayor Nutter recognized Replica Creative as one of Philadelphia's best small businesses, and in 2013, Leaphart received the Vision for Philadelphia Award.