How do I clear my Internet Browser's Cache?
Firefox:
Click the menu button and choose Preferences (this may also say Options in certain versions of Firefox).

Select the
panel.
Click on the Network tab.
In the Cached Web Content section, click .

Close the Preferences window.  Once you reload the page, you will no longer have an error message.
Chrome:
Click the Chrome menu on the browser toolbar.
Select Tools or Settings.
Select the History tab and choose Clear browsing data.
In the dialog that appears, select the checkboxes for the types of information that you want to remove.
Use the menu at the top to select the amount of data that you want to delete. Select beginning of time to delete everything.
Click Clear browsing data.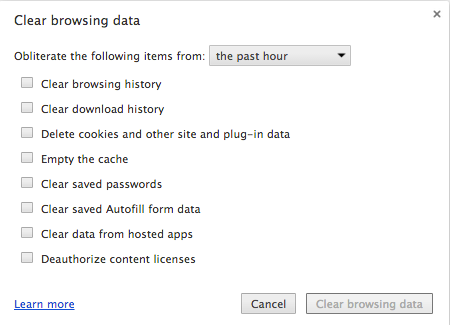 Internet Explorer:
1. Select Tools (via the Gear Icon) > Safety > Delete browsing history….NOTE: You can also access this menu by holding Ctrl + Shift + Delete.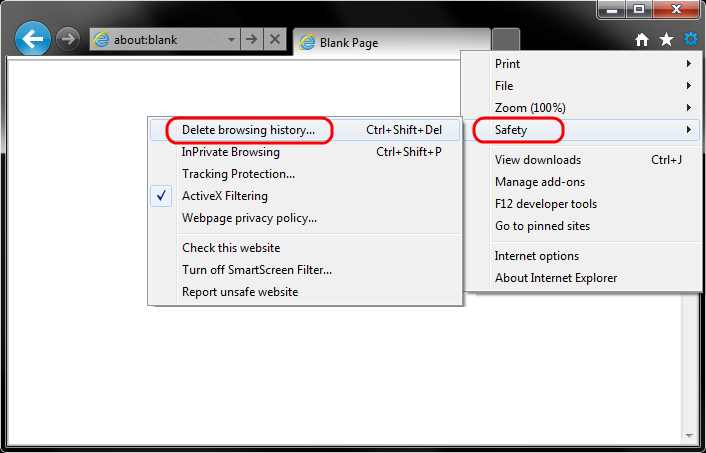 2. Make sure to uncheck Preserve Favorites website data and check both Temporary Internet Files and Cookies then click Delete.

3. You will get a confirmation at the bottom of the window once it has successfully cleared your cache and cookies.
Safari (on Yosemite):
1. Click Safari
2. Choose Clear History and Website Data
2. Choose the length of time as All History and click Clear History
Safari (on Mavericks and older):
1. Click Safari
2. Click Preferences
3. In the Preferences window, click the Advanced tab.
4. At the bottom of the window, select the Show Develop menu in menu bar checkbox.
5. Return to the Safari menu bar and click the Develop option.
6. Select the Empty Caches link.