Posts Tagged 'scholarship@sju'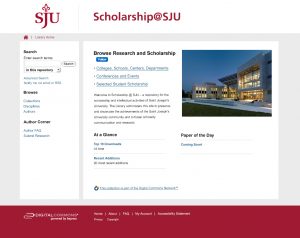 As part of Open Access Week, we are highlighting the Library's digital repository, Scholarship@SJU, to raise awareness of the Library's role in promoting faculty scholarship.
Scholarship @ SJU is a digital repository for the scholarship of Saint Joseph's University. The Library administers this site to preserve and showcase the intellectual and creative achievements of the Saint Joseph's University community and to foster scholarly communication and research. Our site is part of a larger network of 500 institutions using the cross-searchable Digital Commons platform. In addition, the site's materials are made available in Google search results.
Scholarship @ SJU's faculty publications are organized by department, discipline, and author. Authors are provided with readership reports, including information download counts and world-wide locations from which their work was viewed.
The Library posts the bibliographic citation for your scholarly publications and presentations. The information is obtained from several sources: directly from you, the author; from the fall academic departmental annual reports; and from alert services. Making the repository most useful requires that the full-text be deposited for open access. We depend on you to help us add that material.
If you have questions about Scholarship@SJU, please contact Kristine E. Mudrick,
Associate Director for Resources Management, 610-660-3215 or kmudrick@sju.edu.

What is Open Access Publishing?
Open Access Publishing allows for scholars to make their work accessible to the public. In traditional publishing, researchers submit their work to a journal and the publisher provides access to the journal via databases or print issues. Often these journals are aggregated into large subscription-only databases produced by such companies as EBSCO and ProQuest. This means that, including libraries, only those that purchase individual articles or subscribe to these sources can access them.
By publishing in an Open Access Journal, authors can make their work available to anyone with an internet connection.  While the moniker "Open Access" suggests free for all, producing an open access resource is not without cost. Open Access journals have different business models to support production, which includes costs associated with advertising, crowdfunding, membership dues, or publication fees.
There are two methods to distribute work via open access: Gold OA (open access) and Green OA. Gold OA refers to peer-reviewed open access journals that allow the authors to retain the copyright. Green OA are open access repositories, often organized by institution or discipline. Green OA does not peer review articles, but much of the content has been peer reviewed by other sources already. It can also include preprints and post-prints, or a release by the publisher once an embargo has passed.
In some instances, faculty, particularly those seeking tenure, are fearful of submitting to an OA journal because it is believed that since the journal is freely available, the journal is lacking in quality and prestige. Over time, however, this is changing, and open access may provide a less expensive solution to expanding scholarship.
It is important for scholars to evaluate a journal before submitting for preview. If the publisher is aggressively soliciting submissions, promises a quick publication turnaround, or eliminates peer review, it may be a predatory journal.
If you have already published in an Open Access journal, please consider submitting your work to our scholarship repository, Scholarship@SJU.