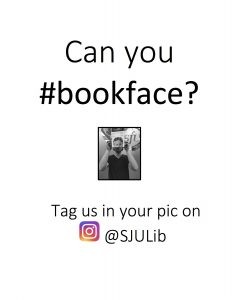 Our newest book display has a bit of a twist. All the books you'll find there can be used for #bookface photos which can be posted to Instagram, Twitter or Facebook.
#BookfaceFriday is especially popular on Social Media. If not already familiar with #bookface, next time you have some down time, search for yourself to see the creative things done with book cover images.
If this looks like fun to you, feel free to use any of the books in our display to create your #bookface photo. Books were selected from various areas of the collection resulting in a variety of options to choose from.
All books in the display are available for checkout!
– Marian Courtney
This book display curated by Marian Courtney, Library Operations Manager.