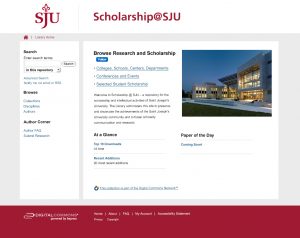 As part of Open Access Week, we are highlighting the Library's digital repository, Scholarship@SJU, to raise awareness of the Library's role in promoting faculty scholarship.
Scholarship @ SJU is a digital repository for the scholarship of Saint Joseph's University. The Library administers this site to preserve and showcase the intellectual and creative achievements of the Saint Joseph's University community and to foster scholarly communication and research. Our site is part of a larger network of 500 institutions using the cross-searchable Digital Commons platform. In addition, the site's materials are made available in Google search results.
Scholarship @ SJU's faculty publications are organized by department, discipline, and author. Authors are provided with readership reports, including information download counts and world-wide locations from which their work was viewed.
The Library posts the bibliographic citation for your scholarly publications and presentations. The information is obtained from several sources: directly from you, the author; from the fall academic departmental annual reports; and from alert services. Making the repository most useful requires that the full-text be deposited for open access. We depend on you to help us add that material.
If you have questions about Scholarship@SJU, please contact Kristine E. Mudrick,
Associate Director for Resources Management, 610-660-3215 or kmudrick@sju.edu.