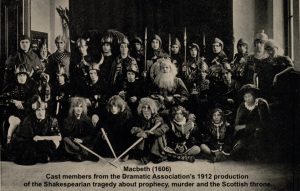 Theatre has played a role in Saint Joseph's University history since its earliest days in the 1850s.  Students presented recitations and/or dialogues during the commencements.  One of these was "Loyola's Vigil" given in 1853 by a commercial student, Andrew Jackson.  The following year students presented the period drama "Regulus" about a Roman general taken prisoner in the wars with Carthage.  Unfortunately, the College Catalogues, the source of this information, are only available in the Archives from 1852-1862 before resuming in the 1890s
A reference was made in the 1897-1898 catalogue to the founding of the Saint Joseph's College Dramatic Association with a listing of its officers and moderator, the Rev. Joseph H. Hann, S.J.  The association members performed Shakespeare's King John at the Park Theatre in Philadelphia on June 1, 1898.  Not much is known about the play other than its cast of characters, which includes the names of the student actors.
At the start of the 1900s, the Dramatic Association produced a series of Shakespearian plays including Macbeth (1912), Twelfth Night (1913) and King Henry IV (1914).  Gilbert and Sullivan's satirical operetta The Mikado made it to the stage in 1915.  However, the group's most successful work was The Passion Play, about the life of Christ, performed in the spring of both 1916 and 1917 at the Metropolitan Opera House in Philadelphia.  The play attracted numerous dignitaries and was seen by a reported 30,000 people.
The Cap & Bells Club formed in 1927 became the successor organization to the Dramatic Association.  Its first annual production was of The Bells at the Penn A.C. Ballroom on the night of February 11, 1928.  After its initial success, the players went on to perform in annual productions and enter a series of one-act play contests.
All the World's a Stage: Theatre at Saint Joseph's College in the Early 1900's, a new Archives and Special Collections display is on view in the Gerard Manley Hopkins Special Collections located on the of the 3rd floor of the Post Learning Commons.  It will be available through the end of the spring semester.  Materials used in the exhibit are reproductions of original play programs and period photographs from the College Annual, the Crimson and Grey, the Greatonian Yearbook .