As part of American Archives Month, the Gerard Manley Hopkins, S.J. Special Collections will host an Open House! Highlights include:

Pre-Columbian Pottery Research and Exhibit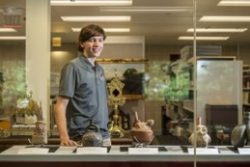 Summer scholar Collin Petersen, Philosophy '21, will discuss his research into the university's collection of Pre-Columbian Pottery. On display during the Open House and afterward is a new exhibit of the pottery curated by Petersen.
Facu

lty Scholar Will Discuss Opioid Crisis
Peter Clark, S.J., Ph.D., Professor and Director of Clinical Bioethics and student members of the Opioid Task Force will be on hand to answer questions about the epidemic sweeping the nation.
Materials and Q/A related to Dennis J. Comey, S.J.: The Waterfront Peacemaker

Dennis Comey, S.J. was a labor arbitrator of Philadelphia dock disputes during the 1950s and founder of the Institute of Industrial Relations (later Comey Institute) at Saint Joseph's College (University). View original materials from the Archives related to Fr. Comey and ask questions of former Institute director John Lavin.

In addition, there will be many unique objects, textiles, documents and photos from the university's collection.
Stop by — we'd love to see you!

Thursday, October 24, 11am – 1pm
Post Learning Commons Third Floor

Delaware Valley Archivists Group has a full calendar listing and descriptions of Archives Month Philly events.