Holidays and Festivities Around the World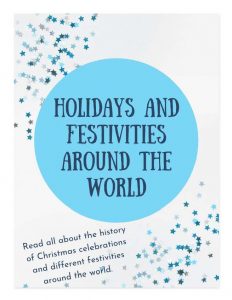 The latest book display is a mash-up of various themes all centering on holidays or festivals around the world. Some themes are religious, such as Christmas, Hanukkah or Kwanza, while others are of secular feasts. These secular festivals can be as dissimilar as portrayals of coming-of-age ceremonies among African tribes or Soviet propaganda parades.
You can find this highly visual display on the first floor of Drexel Library across from the Main Service Desk. The books are all available for checkout!
– Marian Courtney
Art Work – Makenzie Koonrad '22
This display was curated by Makenzie Koonrad '22 and Martha VanAuken, Library Technician – Circulation