It's a Small World: Travel, Discover, Map It!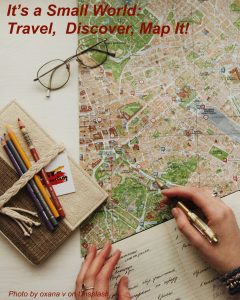 From Medieval explorers to travel writers of modern day, our November book display is a sampling of books from our collection that tap into various aspects of global travel throughout the ages. Some of the books are about maps —  how certain ones came to be and the historical significance of each. Others tackle more delicate topics that could involve a more personal or philosophical journey to a distant land. One book describes a foreign culture through its culinary offerings and several are focused on the modern pastime of traveling.
It's a Small World: Travel, Discover, Map It! will be up throughout the month of November. "Explore" the offerings to see if something piques your interest. Better yet, stop by and check one out! The display is on the wall adjacent to the elevator on the 1st floor of the PLC.

– Marian Courtney
This display curated by Marian Courtney, Library Operations Manager