This Month's Book Display is "BLUE"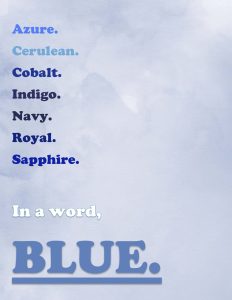 Azure.  Cerulean.  Cobalt.  Indigo.  Navy.  Royal.  Sapphire.  In a word, BLUE.
Our book display for the month of March is something to look at…both inside and out. Outside these books share one thing in common; covers in hues of blue.  Inside the reader can explore the architecture of Gaudi, the beauty of eight centuries of Islamic tile-making, or the fragility of life in the Arctic.
From Issa Rae and Louise Erdrich, to Jon Krakauer and David Baldacci, this display combines disparate subjects and stories that just happen to be bound in blue.
Browse "BLUE" to view all of the offerings in this display or visit us the library. The display is located on the first floor of the Post Learning Commons.
– Susan Clayton
This display curated by Susan Clayton, Circulation Services Manager with inspiration from reference librarian Catherine Collins.