Student Photography Exhibit Honoring Susan Fenton, M.F.A., Associate Professor of Photography
Looking for a good reason to break away from your computer screen and stretch your legs a bit? If so, consider walking over to the Post Learning Commons.
On the 2nd floor, outside the Wachterhauser Seminar Room, is a small but moving exhibit of student photography. Dedicated to the memory of beloved teacher and mentor, Susan Fenton, the (mostly) black and white photos vary in subject and style. In addition to the photos, each of the students' thoughts and feelings about Susan Fenton have been mounted on little plaques.
(Bethany Zaccaria "Portrait Picture")
Participating students:
Ashley Frankenfield '19
Bethany Zaccaria '19
Julia Donahue '19
Madison Auer '20
Alexis Yurgin '19
Aedan Accardi '19
Paige Santiago '19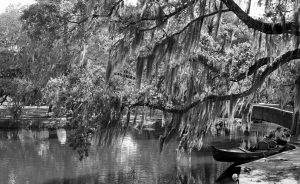 (Ashley Frankenfield "Boatman in New Orleans" )