Love, Friendship, Romance — It Must Be February!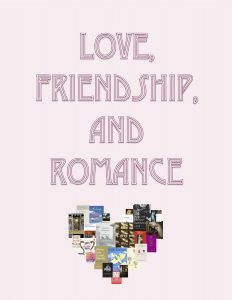 When you think of February, what usually comes to mind?  More often than not, it's candy, flowers, and valentines. If that is what you think of, then this month's book display titled, "Love, Friendship, Romance" will not be much of a surprise.
Featured will be books about the various types of attraction — from that of passionate romance, to various types of love, to deep friendships that stood the test of time. Some books take a historical perspective while others are devoted to particular individuals. From "Love, Friendship, Romance" you can see the list of books in the display as they appear in our catalog. If anything strikes your fancy, stop by and take a look, or better
yet, check one out!

-Marian Courtney
(poster: Elizabeth Angelucci '19)

This display curated by Marian Courtney, Library Operations Manager.