"Tiny Tomes" — or — you can't judge a book by its size!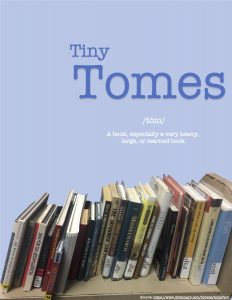 Curating a book display is limited only by the imaginations of those creating the display. Sometimes a suggested topic corresponds with a season while other times it corresponds to a campus initiative. And then there are those special times that our own creative juices get flowing and we pull together a display of books that are unrelated except for one characteristic. Our latest display is ones of those times and in this case, we bring you "Tiny Tomes," a sampling of our smallest books.
With size being the common denominator, book topics range from history, to poetry, to spirituality, to literature, as well as several others. While most books are from the main collection, the Curriculum Materials Center (CMC) is also well represented in the new display.
You can browse the list of Tiny Tomes from your cozy armchair, although not all book jackets will be visible. Better yet, stop by, take a look, check one out! Display can be found on the 1st floor of the Post Learning Commons between the elevator and the lounge for at least the rest of September.
– Marian Courtney
This display curated by Marian Courtney, Library Operations Manager.