Women's History Month at the Library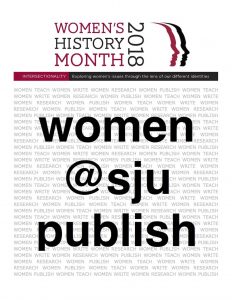 The Drexel Library and Post Learning Commons is helping the campus celebrate Women's History Month in March. On March 2, we hosted a Campus Coffee Hour with the Women's Center.
For the duration of the month, the Library is highlighting some of the work by women who teach, write, research, and publish on our campus in a display called "Women@SJU Publish," found on the first floor of the Post Learning Commons. Titles include works of popular fiction, histories, and research studies by our faculty, and all are available to check out.
If you are interested in reading more about women and women's issues, Catherine Collins, one of our reference librarians, also compiled a recommended reading list which you can access here:
Women's History Month Reading List.
– Catherine Collins
This display curated by Catherine Collins, Reference Librarian.