Two New Exhibits of Student Artwork in the Post Learning Commons
Recently, two very different but equally fascinating, samples of student artwork have been hung on the 2nd floor of the Post Learning Commons.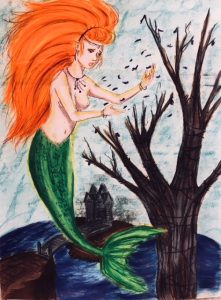 In the lounge area are samples of work from Adjunct Professor Kathleen Vaccaro's course Drawing I, Fall 2017. It is titled, "Chagall Transcriptions and Student Artwork Selections".  Professor Vaccaro describes the works by saying, "The colorful pastel drawings are the students' own interpretations of artworks by Chagall. The charcoal and graphite drawings closer to the windows are a mix of drawings that the students chose themselves." More information, as well as a complete list of the student artists, can be found alongside the artwork.
-Christina Butler
The other photographic display are selections from the Alternative Photographic Processes Fall 2017 class instructed by Professor Dustin Ream. The students employed "two different historical photographic processes…Cyanotype and Van Dyke Brown". These required multiple steps including creating and applying chemistry. A complete description of the steps can be found alongside the exhibit.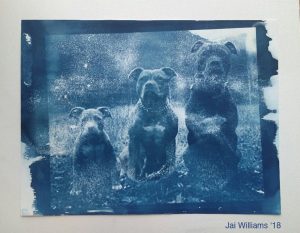 Visually stimulating in their own unique ways, we hope you set aside a little bit of time in your busy schedule, to visit.
– Marian Courtney