The Christmas Creche on Display in the Atrium of the Post Learning Commons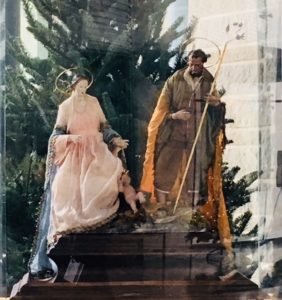 Walking through the Atrium of the PLC, you may have noticed a Christmas Creche has been set up surrounded by three lovely 6 ft. evergreen trees. This piece is from the University Collection, created in the 20th century and fashioned after the 18th century Neapolitan style. The particular figures of Mary and Joseph, the materials used to create them, as well as the coloring of their garments, is unique to this style.
Next time you are walking through the Atrium, take a few minutes to contemplate this exhibit, not only for its spiritual significance, but also for the fine craftsmanship that was employed. You will also find there a pamphlet with more information, put together by Carmen Croce, SJU Scholarly Press.
– Marian Courtney