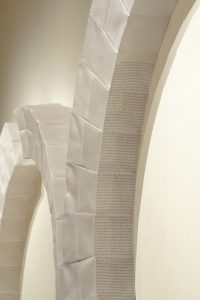 Silent Scream
Silk organza, printed text, cotton thread
Dimension variable
Seven comfort women survivors' testimonies were projected on the inner faces of silk organza. Each arch, consisting of truncated pyramid forms, witnesses each survivor's painful and unbearable memory of the abuse they suffered as sex slaves during WWII.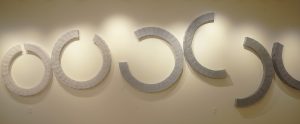 We, Survivors
Silk organza, printed images
I investigated extreme Diaspora experience of Korean Comfort Women. During World War II, 200,000 young women were recruited and forced into sexual slavery in Japan's military brothels in Asia. The abuse of comfort women has proved a painful and unbearable memory. It was 1990 when the first South Korean women lifted the veil of shame and requested a formal apology and compensation for the thousands of women affected by the Japanese government.
Today
only over 50 of the 239 women who publicly acknowledged their experiences are alive in Korea. The portraits of the 50 survivors and their testimonies are incorporated into silk organza boxes to express symbolic sympathy for their suffering. The portraits of the Comfort Women survivors (military sexual slavery by Japan) provided by the Korean Council for Women Drafted for Military Sexual Slavery by Japan.