March 5-29, 2019
Coffee Hour: Tuesday, March 20, 8-9am
Text by Gallery Exhibition Research Assistant: Rowan Sullivan '21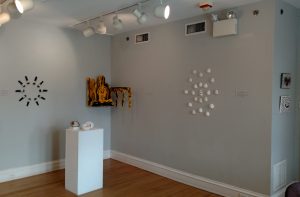 This exhibit showcases student artwork from the Mixed Media Sculpture, Mosaics, and 3D Art classes instructed by Jill Allen and Krista Svalbonas. Using materials such as wood, clay, wire, and plaster the students create unique artworks that express their understanding of space, form, and conceptual development.
 The 3D Art class focused on the element of movement in their pieces and the different ways to express it through their own process of artistic innovation. One of the concepts that the class explored was the idea of a "dwelling." Using foam core and paint the students created 3D models of what their perception of a dwelling is. The 3D Art class also worked on automata box sculptures (wood box structure with movable machine parts and assemblage top piece) that apply found or fabricated objects in an unusual context. Each automata box has a moving component that makes the sculpture come alive in a dynamic fashion that draws attention to a certain area of the artwork. The Mosaics Class created artworks that exemplified the impact of the 2018-2019 government shutdown on our National Parks as well as abstract representations of geographic locations from an aerial view.
"The pieces for this exhibit were chosen to show the many unique ways that artists interpret a similar theme. While parameters might be given with regards to material or size, each person's individual experiences and ways of seeing the world affect their concept and execution of their work."              – Jill Allen
The Mixed Media Sculpture class created cast plaster pieces that took a form of social awareness on issues such as: "Fake News," sexual assault, alcohol abuse, and the stigma of learning disabilities.
"In my Mixed Media Sculpture course  I had students focus on casting techniques. Within the confines of this technical process, I asked them to think deeply about themselves and how Art can bring attention to the important social issues of our time."
– Krista Svalbonas
Mosaics
The mosaic pieces displayed are inspired by two concepts: the impact that the government shutdown had on National Parks and the abstract aerial view of specific geographic locations. The various animals depicted in the tiles are uniquely crafted through the use of mosaic tile and color that create a cohesive composition of the subject.  The tiles representing aerial views of various geographic locations are abstract and emphasize the quality of their surface where mountain ranges and oceans are made visible through the texture and color of the tiles chosen.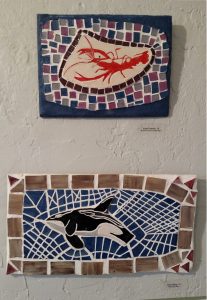 Dylan Eddinger
Dylan created a series of cast plaster mouths to represent the social problem of sexual abuse on college campuses, and how victims are often silenced from speaking out by the fear of judgement or isolation from others. 
"This is a visual statistic about sexual assault on college campuses. Unfortunately, though not unsurprisingly, more than 90% of sexual assault victims will not speak out about their experiences due to shame or fear. The broken mouth in the middle represents the one who has the courage to speak out against their assaulter. The goal of this piece was to create a simple yet powerful portrayal of how that one person feels breaking the silence."
-Dylan Eddinger
Ali Sisbarro
Ali created a series of cast plaster of lightbulbs to represent the stigma of learning disabilities in society today.
"There are 10 light bulbs because 1 in 10 children have a mental disability. So they all look the same except the top one, with a rusted bottom and not as white top. This signifies that mental disabilities aren't talked about and they lump children together but you can still slightly see the difference."         -Ali Sisbarro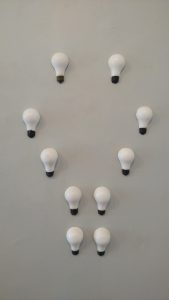 William McCaughern
William displayed the controversial topic of "Fake News" in his installation of several cast plaster models of microphones labeled with ten news stations such as, Fox News, CNN, and NPR. The circular display of the microphones alludes to the endless cycle of "fake news" we are exposed to everyday.
"When putting prior political opinions aside…In today's world with various social media platforms consisting of algorithms that adhere to what the user wants to see or hear, it is extremely important for people to branch out and get out of their shell to follow different news sources that they don't necessarily agree with. By doing so, one is able to gather a broader perspective of how different people think or believe which enables a more unbiased opinion"
-William McCaughern
Shanna DiCarlo
Claire created cast plasters of beer bottles painted in neutral tones of grey and beige to represent the social problem of drunk driving among youths in today's society. She also incorporates a photo image of her installation of the bottles at the foot of a car tire bringing her art into contact with the physical world and emphasizing the reality and impact of drunk driving.
"For my art piece, I sculpted several beer bottles to represent fatalities DUI's can result in, and how dangerous it is to "have a couple drinks" at a party and getting behind the wheel after. The beer bottles are dark, and can blend into the color of a road or a highway to represent the darkness of driving under the influence, and it also represents how it can be "hidden" from our eyes. One individual may have a couple alcoholic beverages, and believes that he or she is able to get behind the wheel to drive home since he or she only had two drinks. Unfortunately, every situation is different, and in that circumstance, maybe he or she did not eat enough that day, and was not okay to get behind the wheel, causing a fatal car accident. According to the CDC, every day there are 29 motor vehicle deaths in the United States, due to a driver driving under the influence of alcohol. Take an Uber or call a friend for a ride, because it is not worth risking a life to drive."          -Shanna DiCarlo
Dwelling: Home
Rozana Almaddah represented her idea of a dwelling in the form of a model replica of her home. On a large and detailed scale, Rozana's piece stands out for it's attention to detail of architecture in the hexagonal bay with a conical segmented roof, wrap around porch, and multi-dimensional elements of the house.
Dwelling: Metropolis
Ian Asaph represented his concept of a dwelling through the inspiration from the film cover of the 1927 movie "Metropolis." Crafted from foam core and yellow and black paint, the model stands out for it's expressive brushwork and sharp contours.
Automata Box Sculptures
The 3D Art class also worked on automata box sculptures (wood box structure with movable machine parts and assemblage top piece) that apply found or fabricated objects in an unusual context. Each automata box has a moving component that makes the sculpture come alive in a dynamic fashion that draws attention to a certain area of the artwork.
Automata Box: Wire Birds/Blue Landscape
Gianna Hoffman's sculpture "Wire Birds/Blue Landscape" uses wire shaped into the form of birds to create the moving component of the box. The naturalistic blue landscape painted in the background contrasts with the wire birds which calls attention to the movement and spatial organization of the sculpture.
"My piece was inspired by nature and simplicity. I really enjoyed using different materials to create a feeling of calm that a person would experience in nature."
– Gianna Hoffman
Automata Box: Birds/Garden
Madison Scuderi's sculpture, "Birds/Garden" is complete with a wooden bird box, plastic grass, and figures of a bird and flowers as well as butterflies. In Madison's sculpture the bird and flower move up and down making the nature in her automata box come alive in the setting of a garden. The openness of her box with no back brings an element of open space in an outdoor garden .
Automata Box: Garlic/Found Objects
Hannah Kiley's sculpture, "Garlic/Found Objects" resembles that of cupboard shelf crowded with miscellaneous items. The tape measure coils and the thyme herb swivels when the crank is turned, giving the sculpture's intriguing randomness an eerie mystery to the found objects it contains.