October 1 – 25, 2019
Coffee Hour: Tuesday, October 1, 8-9am
Boland Hall Gallery
Form
Form displays works by a collective of students from different classes, at different levels, working in different media. Some of the student artists worked with Professor Jill Allen, in her multiple sculpture classes, others worked with Professor Steve Rossi in his Intro to 3-Dimensional Art course.
The displayed wire sculptures, products of Jill Allen's class, were created as explorations of line, meant to capture viewers' attention and elicit a particular emotion, such as chaos, fragility, and energy.
The plaster sculptures were created as nonobjective forms, or forms that have no connection to forms that we know in our experience. Students created their pieces with no prior plan; reacting to and creating from gut responses. This elicited some anxiety in students, as working without a plan and on instinct alone could feel foreign.
The cardboard sculptures that Allen's students created were done collaboratively. Teams of students developed a concept for their final sculpture–some used narrative, some focused on repetition, and others on exaggerated proportion. The technical approach used to reach these concepts varied from group to group, as well. Some were abstract in form, others were meant to tell a story. One group used a narrative approach, evoking the growth of a child, and the accumulation of experience as that child grows.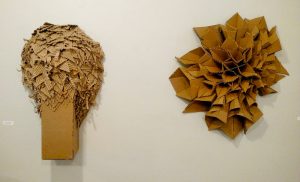 Professor Rossi's students worked under the same assignment. Students created sculpture out of cardboard with the goal of intimately understanding the basics of three-dimensional art concepts, with a specific focus on line, space, and form. The sculptures on display are the final iteration in a multi-step design process. Students first created a charcoal line drawing, then they cut apart the drawing arranged the pieces to create the basis for their sculpture. After examining the negative and positive space of their prototype, they began to examine the textural aspect of the cardboard –some of these textural studies are on display, as well. Although the material is only cardboard, the textures the students created on the surface give the sculpture a feeling of sumptuousness and luxuriousness. This was intentional, to facilitate conversation about ornamentation and social importance, as a humble material, cardboard, was treated as one would treat an expensive or important material.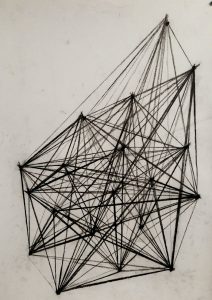 Ultimately, these sculptures were created to be generalizable to the world around us. These works are microcosms of the built environment, drawing from architectural concepts and applying them to three-dimensional sculpture. As viewers interact with these works, they are reminded of the spaces they move through and the buildings they interact with every day.
~ Devon D'Andrea '20
Gallery Exhibition Research Assistant