August 19 – September 23, 2019
Gallery Talk & Reception: Friday, Sept 13, 5-8:30pm
5 – 6 pm: Boland Hall Gallery Reception – Boland Hall is exhibiting the work of Susan Fenton's SJU photography students from the past 20 years.
6:15 pm: Merion Hall Gallery Talk given by Larry Spaid
7 – 8:30 pm: Merion Hall Gallery Reception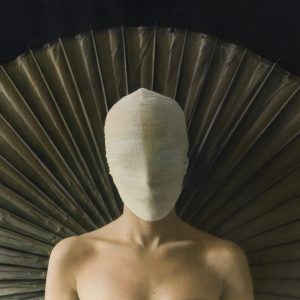 A Survey, showcases over 50 pieces from the beloved and talented photographer, artist, and teacher, Susan Fenton. Susan was a self-taught studio photographer whose work has been exhibited extensively nationally and internationally. She obtained her Bachelor of Studio Art Degree from the Tyler School of Art at Temple University where she also received a Master's in Art Education. Susan obtained a second Master's Degree in Fine Arts from The Mason Gross School of Art, Rutgers University. She participated in artist residencies in California, France, and Ireland. In addition, she taught abroad at Temple University Japan in Tokyo as well as for Saint Mary's College and Notre Dame University in Rome.
Selected series of work represented in this exhibit include: Rome, Barbie, Nocturne, White, Ballingen, and Fatima. Nocturne and Fatima are traditional black and white photographs that feature selenium-toned gelatin silver prints (Nocturne) and gelatin silver prints (Fatima). A great majority of Susan's photographs are hand-painted gelatin silver prints recalling her formal education in painting. She did not start practicing digital photography until later in her career as seen in her Baroque series. This exhibit shows a wide variety of Susan's interests. One overarching aspect in her figurative work is how the identity of the model is hidden and camouflaged to emphasize the form of the subject. Despite the use of models in many photographs, Susan's art was not about portraiture, but rather the essence of a still-life or as in her Baroque series, the ambience of thematic stories.
Influenced by Moorish art as well as artists such as Vermeer, Caravaggio, and Giorio Morandi, Susan eloquently combines the classical elements of their work with expressive photographic techniques that create a powerful, but soft aesthetic unique to Susan Fenton's work. A true studio artist, every photograph is meticulously planned out to the smallest detail. In referring to Susan's artistic process her husband Larry Spaid says:
"I know Susan loved  research, traveling and experiencing crazy places….it all filtered into her work."
Also featured in this exhibit are a series of watercolor paintings that Susan worked on while traveling. Rather than using a camera to document travel she used this painting technique, over a four year period, as a journal and later in her studio as a reference. In addition, the exhibit features a film by John Thorton and a slideshow from one of Susan's numerous academic lectures. These help illuminate her detail-oriented and thorough examination of subject matter in her chosen area of research.
~ Rowan Sullivan '20
Gallery Exhibition Research Assistant