A Visual Story
February 4 – 28, 2019
Coffee Hour: February 5, 8-9am
Victoria Ring '19
Students experiment with digital photography in unconventional ways; taking the concepts of color, line, form, texture and space to construct images. These alterations to the photos allow the artist to convey their vision.  Focusing on principles of composition, the exhibit is a visual storytelling in photography.
This exhibit provides attention grabbing images that undermine the questions of social justice that are discussed in our nation today. From prejudice to environmental impact, these images will allow other students to continue the discussions that affect change in our society and on our campus. Photographer Roa Alshaer shared her feelings on the assignment saying it, "challenged me to address a sensitive topic that can be overlooked or neglected because we experience it in our daily interactions. I was inspired to address social prejudice that most of us get subjected to because of our ethnicity, religious believes, gender, sexual orientation or appearance." Followed by the work of photographer peer Dylan Eddinger who was steered in the direction of ecological concern. He says, "I decided to take fine art food photography pictures of seafood dishes to bring attention to the issue, but instead the seafood is being replaced by the Ocean trash." Using these creative ways to discuss the issues that presently impact our world. Each of the stories these photographers are sharing provide a provocative discussion to follow.
-Meghan Sack '19
Gallery Exhibition Research Assistant
Roa Alshaer '18
Photographer Roa Alshaer took on the topic of prejudice as it runs through the daily interactions of people in our society with an emphasis on the social stereotypes that are perpetuated through ethnicity, religion, gender, and race. In her own words, "The images almost look like mugshots as I wanted the shots to looks serious but I also wanted to empower the individual and show that these labels, although hurtful, do not have to affect us or change who we are as people". Her work includes fierce images of her subjects showing their powerful reaction to the external judgement that inflicts its pain into people's lives daily. Alshaer believes in change and simply says, "I want to bring awareness and encourage people to treat one another with kindness and not to mindlessly pass social prejudices."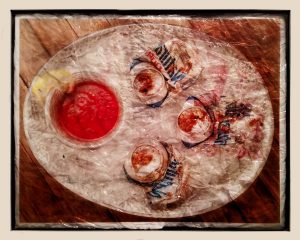 Dylan Eddinger '19
Entertainment Marketing Major
Photographer Dylan Eddinger tackles the overwhelming waste issue that our planet is facing today. Using the concept of fine art food photography, he features popular seafood dishes replacing the food with trash found in our oceans. His work demonstrates the increasing issue of marine ecosystems in jeopardy due to waste created by humans. Turning the tables on the topic, quite literally, he serves up the plastic and debris that is dumped into oceans each day with his photographic meals. As he says, "If nothing is done to stop trash from going into our oceans or to help clean up our oceans, there is supposed to be more trash than fish by 2050. It is believed that there are approximately 5.25 trillion tons of plastic debris in the ocean already; plastic bags, straws, cigarette butts, food wrappers, plastic bottles, and aluminum cans being some of the biggest problems". Eddinger draws alarming attention to the mistreatment of our environment using the very benefits we gain from the sea– food.
Bridget Moran '19