O L I V I A   H E I S T E R K A M P
__________________________________________________________________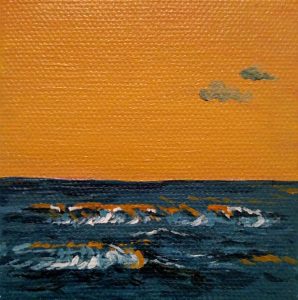 Olivia's artwork is a series of miniature acrylic paintings and a second series of pencil and charcoal drawings. She completed her artwork in two separate classes, Painting I and II, both instructed by Professor Dennis McNally. She had the freedom to choose what she painted, which allowed her to be inspired by her peers as well as her surroundings both in and out of the classroom. Olivia's paintings depict the seascapes and landscapes that surround her.  She describes her attraction to nature,
"I am greatly inspired by nature, and natural forms are what intrigue me most, AS opposed to rigidity. It is my default to portray landscapes/seascapes in a variety of ways. However, many of my drawings are still lifes or body parts. This mainly grew out of necessity – I am not always by the ocean or in the woods. I live in a poorly lit apartment on Lancaster Ave. That doesn't exactly scream organic. However, it is my belief that beauty can come from anywhere and so can good art."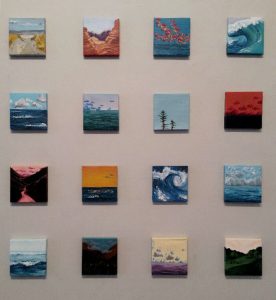 You can see the inspiration from nature in all her pieces. A carefully chosen color palette of subtle blues and vivid greens evoke the natural movement of life throughout her paintings. Olivia pays close attention to detail taking care to include the smallest wave and tree branch in her paintings. She also emphasizes the horizontal with two distinct lines across the sky in two of her paintings and an emphasis on the horizon line in her landscapes and seascapes.
~ Rowan Sullivan '21
Gallery Exhibit Research Assistant
N I C O   T A M B O R E L L O
____________________________________________________
Nico's artwork is a collection of three photo series printed on 13×19 inch Glossy + Matte Paper, taken on a digital camera and edited in Adobe Lightroom/PhotoShop. Nico created his two collections in the class "The Constructed Digital Image" instructed by Professor Krista Svalbonas. The photographs focus on light, shadow, and reflection found in urban scenes in Philadelphia. In addition, he emphasizes architecture and geometric shapes. Nico describes the differences among his three series:
"The first focuses on a person in an urban landscape and his shadow. The second is a collection of portraits of the street and found beauty. The last is more abstract, focusing on reflections, and shooting into windows to capture multiple reflections."
Two artists have influenced Nico's photography, Eugene Atget, "for his work focusing on shadow and reflections in Paris, which relates a lot to my work capturing shadows and reflections in Philadelphia." He is also drawn to the work of Alfred Stieglitz "for his documentary-esque photography of the world around him." You can see the influence of these artists mixed with Nico's individual style in his use of light and shadow, where the flat planes and sharp angles intersect with soft shadows and subtle light, creating complex and abstract images.
~ Rowan Sullivan '21
Gallery Exhibit Research Assistant
J U L I A   D O N A H U E
____________________________________________________
Julia's work showcases a variety of mediums, including color and black and white photography, ceramics and mixed media collage.
She completed her collections of photography in "Digital Photography I" instructed by Professor Mary Rhodomoyer and "The Constructed Digital Image" instructed by Professor Krista Svalbonas.
Julia has two collections of photographs, one titled "The Streets of Philadelphia," which highlights the beauty of Philadelphia. She describes her inspiration for this collection saying,
"This is Philadelphia's year. The Eagles won the Super Bowl, Villanova won the National Championship for basketball and that's just two examples of how the underdogs came through. I was inspired by the city of Philadelphia for some of my work. I tried to show just a piece of how beautiful Philly really is."
Her 8×10 inch charcoal drawing of Carson Wentz and head coach Doug Peterson doing a fist pump was inspired by the city of Philadelphia. Julia says of this drawing, "I wanted to show the unity of Philadelphia and how we really are the City of Brotherly Love."
The other collection of colored photographs printed on regular matte and glossy paper are of the New York City Hair Show. These pictures focus on the model's elaborate hairdos and the artistic ability of hair stylists. Julia describes her inspiration for these prints:
"I was inspired by my mother. She is a hair stylist. She took me to the New York City hair show and I was in awe of what my mother and other hair stylists can do."
In one of these photos Julia weaves fake hair through the photograph in order to create a 3D effect. This artistic addition to the photograph adds her own stylistic twist to the collection of photographs and accentuates the intricate detail and extravagant hairstyle pictured in the image.
Julia created her 13×22 inch self-portrait by printing a photograph onto fabric, and then sewing the lyrics of the Beatles song "Julia" which she was named after, into the background with black thread. The self-portrait is Julia's personal favorite work on display and says that the portrait is a piece that really speaks from her heart and shows people a little part of who she is.
On the second floor is a series of photo representations on eight pieces of glass picturing rowers on Kelly Drive as the sun is going down. Julia created this piece in the spirit of Philadelphia's beauty. She was also inspired by the artist, Nobuhiro Nakanishi, who prints photographs of landscapes or sunsets on..glass..panels.
~ Rowan Sullivan '21
Gallery Exhibit Research Assistant