Saint Joseph's University cordially welcomes neighbors and other guests to enjoy our cultural, educational, and recreational programs.
We strive to be a good neighbor and a resource for the Greater Philadelphia region. Concerts, plays, art exhibitions, NCAA sports, distinguished public lectures, international conferences, professional development, and daily Mass--there is something going on almost every day at our beautiful campus.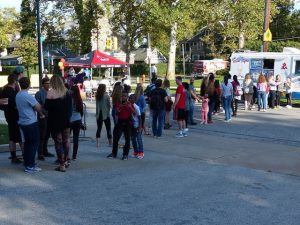 Greetings from Hawk Hill!

We hope you find Community Clips informative and we invite you to join students, faculty and staff at one of our many lectures, concerts or athletic events.
Go Green!   Send your email to communtyrelations@sju.edu and we'll share information with you quicker via email.
WELCOME IGNATIAN COLLEGE
CONNECTION SCHOLARS
Saint Joseph's is pleased to announce that six Ignatian College Connection scholars have joined the University this semester as first-year students. Each scholar will receive eight semesters of full tuition support, awarded for academic achievement and participation in the ICC program as high school students.
Founded in 2004 by then-President Timothy R. Lannon S.J., and George Bur S.J., then-rector of the University's Jesuit Community, the ICC gives high school students of educationally diverse backgrounds the opportunity to learn about the college experience and Saint Joseph's through yearlong programming held on campus. These programs include SAT prep, college application assistance and general information about higher education. The program benefits many students who may be first-generation college applicants. Currently, there are 20 ICC scholars enrolled at SJU, and, in total, there are 51 ICC alumni.
Over the summer, ICC participants work with Saint Joseph's faculty and staff who acquaint them with the University, campus life and college-level academics. Jennifer Dessus, director of Inclusion and Diversity Access Programs, leads the ICC program. "In the summer program, we push the students to learn about the rigors of college coursework," Dessus says. "Our goal is to give them an accurate picture of the higher education experience."
After being accepted to the University on the merits of their academic achievements, Dessus says to qualify for the scholarship, the candidates engage in a long and challenging interview process with current scholars, University faculty and administrators, and ICC alumni.
"The ICC program is a family," adds Dessus. "Many ICC alumni who graduated from or still attend Saint Joseph's pay the program forward by staying involved with the high school students."
Recent Events, Partnerships and Activities