2020 Virtual Annual SJU Giving Tree
This year, Covid-19 restrictions make collecting for the Virtual Giving Tree a totally virtual experience! We ask those who wish to submit a family to do so by creating an online Wish List.
The Wish List should have 3 to 4 items per person, and can be posted online on either Amazon, Target, or Walmart.
Once your wish list is created, submit it to the email below by the deadline: December 10, 2020 IMPORTANT: We are limiting the Giving Tree to the FIRST 5 lists submitted.
Click on link for more details: SAS 2020 Virtual Giving Tree
Click on links below to donate to families:
---
2019 Event Recap:
Faculty and Staff Potluck Lunch
As 2019 winds down, please join us for a Potluck Lunch. We will provide the paper products, utensils and beverages. You can provide a small dish to be shared with other staff and faculty.
Our members will be there to discuss our plans for the coming year as well as how you can get involved if you have an interest.
Come have lunch with old friends and meet new ones! Sign up here
Thanks for bringing the Holidays H.O.M.E. by donating Thanksgiving Turkey Baskets!
Thanks to our colleagues who donated 89 baskets, 10 additional turkeys, and all from 44 departments across campus - thanks to YOU ALL!
Your donation will enable formerly homeless individuals and low-income families within the Project HOME community to have a hearty holiday meal!  Please be sure to include the following in your family Thanksgiving Baskets:
15 pound frozen Turkey (wrapped or sealed in plastic)
4 cans of various seasonal vegetables
2 boxes of stuffing mix
1  5-pound bag of potatoes
2 cans of cranberry sauce
2 jars of applesauce
1 jar of gravy
dinner rolls
1 non-frozen pie
 ALSO – Project H.O.M.E. expressed a need for additional frozen turkeys – no basket required!
If you have any questions or are interested in participating in Project H.O.M.E.'s Turkey Basket Drive, please email Pat Gregg at pgregg@sju.edu with your departmental or individual name and the number of baskets and/or frozen turkeys you will be donating.  Baskets will be collected on Tuesday, November 26th between 8 -10 AM at the Hagan Arena.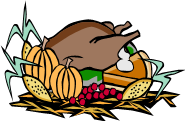 Packing the Thanksgiving Dinners in a plastic tote/bin with a lid makes transporting them much easier.
---