Master of Ceremonies
Dr. Jeanne Brady
Provost and Vice President for Academic Affairs
---
Invocation
Dr. Usha Rao
Associate Professor, Chemistry and Director of the Office of Teaching & Learning
Namaste.
This ancient Sanskrit greeting recognizes the divine spark in each one of us, and invites us to become aware of God's presence.
In the words of the poet e.e. cummings,
here is the deepest secret nobody knows
(here is the root of the root and the bud of the bud
and the sky of a sky of a tree called life; which grows
higher than the soul can hope or mind can hide)
and this is the wonder that's keeping the stars apart
i carry your heart (i carry it in my heart)
Thank you, God, for the opportunity to gather here as a community dedicated to a common mission:  the growth and intellectual, emotional, and spiritual development of the students in our care. We hold their hearts in our hearts, in Your name.
We thank you for the presence of the gifted colleagues whose excellence in teaching, scholarship, service, and social justice we gather to celebrate today, and for all those who strengthen and enrich this community by sharing their passion and dedication with our students and with the rest of us.
Let us end with a Sanskrit prayer from the Upanishads, composed around 700 BCE.
Asatō mā sadgamaya
tamasō mā jyōtirgamaya
mr̥tyōrmā amr̥taṁ gamaya
Lead us from unreality to the reality of the eternal
Lead us from darkness to light and grace
Lead us from the fear of death to the knowledge of transcendence.
Om śāntḥi śāntḥi śāntḥi
Peace within, peace without, and peace divine.
---
Welcome
Dr. Mark C. Reed
President
Awards and Recipients
Faculty Teaching Awards
Presented by Dr. Ann Green, Professor, English and Director of Writing Studies
Dr. Christopher Close, History
Dr. Millicent Feske, Theology and Religious Studies
Dr. Lucy Ford, Management
Dr. Brian Forster, GEP Science Lab Coordinator
Dr. Eric Hoffman, Philosophy
Dr. Virginia Hoffman, Philosophy
Dr. Thani Jambulingam, Pharmaceutical Marketing
Rev. Dennis McNally, SJ, Art
Dr. Lisa Nelson, Management
Dr. Grace Wetzel, English
---
Staff Service Awards
Ms. Mary Anne Benetatos, Counseling and Psychological Services
Presented by Dr. Cary Anderson, Associate Provost and Vice President for Student Life
Ms. Susan DelFra, Honors Program
Presented by Dr. Shaily Menon, Dean, College of Arts & Sciences
Ms. Kathy MacDonald, Athletics
Presented by Mr. Don Di Julia, Athletic Director and Vice President for Athletics
---
Faculty Research Awards
Presented by Dr. Jason Mezey, Associate Professor, English
Mr. Steve Cope, Art
Dr. Rommel Regis, Mathematics
Dr. Brent Smith, Marketing
Dr. Aimee Terosky, Educational Leadership
Dr. Brian Yates, History
---
Administrator Service Awards
Presented by Dr. Cary Anderson, Associate Provost and Vice President for Student Life
Dr. Kim Allen-Stuck, Student Success and Educational Support
Ms. Kelly Bersett, Residence Life
Ms. Christine Falcone, Career Development
---
Faculty Advising Awards
Mr. Matthew Kelly, Finance
Presented by Dr. Joseph DiAngelo, Dean, Erivan K. Haub School of Business
Dr. Rommel Regis, Mathematics
Presented by Dr. Shaily Menon, Dean, College of Arts & Sciences
Staff & Administrator Special Event/Initiative Award
Presented by Dr. Joseph DiAngelo, Dean, Erivan K. Haub School of Business
Ms. Maura Shenker, Center for Professional Development HSB
---
Justice Awards
Presented by Ms. Ann Marie Jursca Keffer, Director, The Faith Justice Institute
Dr. William McDevitt, Management
Ms. Jeannine Shantz, Academic Computing Services HSB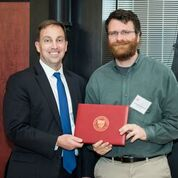 Dr. Christopher Close
Dr. Christopher Close, Assistant Professor of History, receives a teaching merit award for his ability to teach students to understand the practice of history as well as the content. Dr. Close designs his courses to include both secondary and primary sources and asks students to wrestle with both qualitative and quantitative analysis. Writing is used as a process of discovery and assignments encourage students to learn by practicing the craft of historical investigation themselves, developing an understanding of how both primary source analysis and the conceptual frames of history contribute to our understanding of our relationships to the past.
Dr. Millicent Feske
Dr. Millicent Feske is the recipient of the 2017-2018 Lindback Award for Distinguished Teaching.  Dr. Feske holds an appointment in the Department of Theology and Religious Studies and teaches courses in Feminist and Liberationist Theologies, as well as the nature and person of Christ. Dr. Feske has won accolades from her students and colleagues, who sum up her teaching in this way: "Dr. Feske is unquestionably a master teacher."  The hallmark of an excellent teacher, Dr. Feske uses a variety of teaching methods, and she is a master of classroom engagement. Dr. Feske has a remarkable ability to engage students in their own learning, allowing them to master depth of content as well as breadth.
Dr. Lucy Ford
Dr. Lucy Ford, assistant professor of management, receives a 2017 faculty merit award for teaching for her work at all three levels of the management program—undergraduate, graduate, and executive. She has revised "Introduction to Managing Human Capital" for the 21st century curriculum and has been a champion at changing the narrative of human resources education from an administrative function to a strategic function. In addition, she has also created a new course "Metrics in Managing Human Capital" which brings the power of analytics to bear on human resource managers. Dr. Ford is extremely student centered and has been instrumental in preparing students for national certification in HR.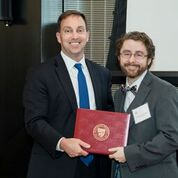 Dr. Brian Forster
Dr. Brian Forster from Biology receives a 2017 merit award for his extensive work in the general education program with non-science majors. Dr. Forster has taught "Exploring the Living World" and "Environmental Science" since 2011. Dr. Forester has been innovative in developing strategies to engage non-science majors who often view science with trepidation. He has produced videos that explain lab techniques, published an online microbiology textbook, and shared his pedagogical strategies with the Philadelphia Public Schools. His great ease in interacting with students makes the material interesting and relevant. Since 2012, he has published nine pedagogical papers with other SJU faculty and students.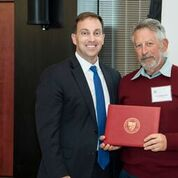 Dr. Eric Hoffman
Dr. Eric Hoffman of the Philosophy department receives a 2017 faculty merit award for teaching for his passion for and mastery of the subject matter, his commitment to critical reflection, and his respect for students. Dr. Hoffman developed Philosophy and Personal Relationships, a course that explores the wide variety of human relationships including parent–child, marital, and gendered relationships, to shows the ongoing human interest in these issues. Students gain a compelling model of philosophy's contributions to the humanistic goal of a well-lived life. Dr. Hoffman's enthusiasm for philosophy in introductory courses converts many students to the philosophy major.
Dr. Ginger Hoffman
Dr. Ginger Hoffman, associate professor of Philosophy, cultivates an approach of radical compassion toward her students, the primary virtue she identifies as ingredient in successful teaching. She routinely asks herself: do my courses encourage students to be of service to others, to demonstrate empathy and openness to difference?  Do my courses and teaching methods help students to develop skills of critical reflection and logical argumentation, including learning to challenge assumptions and question aims and to think logically? Dr. Hoffman's strengths are her engagement, accessibility, and rigor as a teacher, and she is dedicated, effective, innovative, and, by any measure, an exceptional teacher.   
Dr. Thani Jambulingam
Dr. Thani Jambulingam of pharmaceutical marketing receives a 2017 faculty merit award for teaching for his wide-ranging teaching at the undergraduate, graduate, and executive levels. He has been a versatile and impactful teacher teaching seven courses in Undergraduate Pharmaceutical and HealthCare Marketing Program, nine courses in the executive MBA program, and many other courses, including on-line teaching in different areas. The ability of Dr. Jambulingam to teach so many courses for so many different audiences is a distinctive achievement. The rapid changes in health care policy require constant attention and revision. Dr. Jambulingam addresses this, in addition to his teaching, is by organizing "future issues" conferences where students can learn more from industry executives.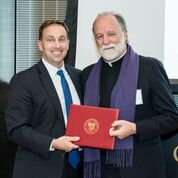 Fr. Dennis McNally
Fr. Dennis McNally of Fine Arts receives a 2017 Faculty merit award in teaching because of his ability to enact cura personalis. He cares deeply about individual student learning, teaches a wide variety of courses, and reaches out to students who seem to be falling behind. He crafts small learning communities in each of his classes where students are encouraged to explore their own gifts. He has developed courses in architectural history, art and mystery (comparative architecture and comparative religion are important elements in these two lecture courses), and a service learning course in art education that he has taught twenty times.
Dr. Lisa Nelson
Dr. Lisa Nelson, department of Management, developed a new first-year seminar, "Work as our Fire," a course that explores "working as a journey of experience and expression of dignity and not solely as a burden or means to make a living." An outstanding and dedicated teacher with SJU since 2012, Dr. Nelson has coordinated Management 101 assessment efforts for our accreditation bodies, has researched and refined course materials for the group, and has also mentored/trained adjunct faculty who teach the course. She is a thoughtful and reflective teacher who revises her courses based on feedback from peers.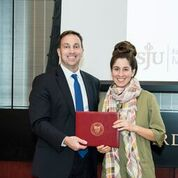 Dr. Grace Wetzel
Dr. Grace Wetzel has demonstrated a deep commitment to student learning and has worked collaboratively with tenure-track and adjunct faculty to develop new courses and more effective pedagogies. Dr. Wetzel varies her classes from peer-to- peer response, faculty led discussion, digital media, and practical examples taken from students' own writing. She brings remarkable energy to the classroom while being attentive and responsive to students' questions. She has recently been trained in the Inside/Out Prison Exchange program and is currently teaching her first I/O course at PICC (Philadelphia Industrial Correctional Center) with Dr. Jamie Hebbeler of Philosophy.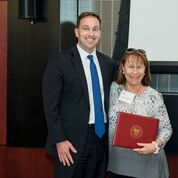 Mary Anne Benetatos
I am pleased to honor Mary Anne Benetatos with a University Merit Award.  Mary Anne is the heart, soul, and organized mind of the Counseling and Psychological Services (CAPS) staff.  Mary Anne is a gracious, welcoming, comforting, caring and supportive presence whether working with anxious students or co-workers. She graciously welcomes anyone who calls upon CAPS and does all she can to address needs and answer questions.  Anyone who has encountered Mary Anne can attest to the way she cares for the individual as though her own children. She keeps the office running smoothly and everyone on schedule and does it with a cheerful smile and the personal warmth that lets you know she truly cares.  Congratulations Mary Anne.  
Susan DelFra
I am pleased to honor Susan DelFra with a University Merit Award. Susan is known for putting students first and is beloved by them.  She would think nothing of postponing her own personal plans to help a student at the end of her day.  Her organizational skills and dedication to the Honors program has made her a reliable and knowledgeable asset.   She has been the single most important contributor with her work on implementing the transition to College Honors which involves instituting 2-semester capstone projects for all seniors.  Susan has contributed several other great ideas for improving the program, such as how to make better use of funds for student social gatherings and community building.   
Stephen Cope
Stephen Cope of the Art Department is a prolific painter who has had his work displayed around the country. In the last three years, Cope has had thirteen solo or small-group gallery shows, which included over forty separate works of art. Cope has taken to painting small works that contain incredible details, as attested by a review from a recent show in which he was featured: "These landscapes require close attention. There's much to see, still painted with the smallest possible brushes. The detail is astonishing, whether it's snowy mountains, seascape, desert or clouded sky." The venues in which Cope's work has appeared are of a very high quality. He is a regular artist at the Schmidt Dean Gallery in Philadelphia, where three of his recent shows took place, and in 2016 he was invited to show at the prestigious Lyons Wier Gallery in Manhattan, then was re-invited to show twice in 2017. Cope's work pulls you into it. One feels lost in a world of detail and wonder.  Because of his copious production and the very promising trajectory of his work, we are pleased to award Stephen Cope a Faculty Merit Award for Research.
Dr. Rommel Regis
Dr. Rommel Regis of the Mathematics Department has a lengthy record of publications in high-quality venues. A widely cited scholar of applied mathematics, Regis is a prolific researcher in the area called black-box optimization theory. The goal of his research is to develop methods for optimizing functions arising in engineering problems for which extensive evaluations are prohibitively expensive. Regis invented the Constrained Optimization by Radial Basis Function Approximation (COBRA) method, which has become one of the leading algorithms in this competitive field. In the period under review, Regis has published thirteen articles on COBRA and related results. A frequently invited speaker at conferences in his field, he has given multiple presentations nationally and internationally.  Finally, in addition to his cutting edge research program, Rommel is an active mentor of undergraduate research both for the Summer Scholars and for the Honors programs. Because of his active, productive, and influential research agenda in his field, we are happy to award Rommel Regis a Faculty Merit Award for Research.
Dr. Rommel Regis
As Director of the Actuarial Science Program, Dr. Rommel Regis advises over 80 Actuarial Science  majors, serving both as a formal advisor to more than half of these students and as a secondary advisor to all of them. The Actuarial Science major is a complex, inter-disciplinary program with many challenging courses and requirements.  Rommel works tirelessly and effectively to ensure that Actuarial Science majors succeed and thrive in their challenging course of study.  Rommel's advising embodies the Jesuit ideal of cura personalis in that he develops an individual plan for each student based on their  academic goals including double majors, Honors, and study abroad.   
Rommel's advising work goes far beyond course selection.   He coaches and tutors students as they strive to pass the Actuarial Exams and helps them to improve their marketability for in as they apply for internships and ultimately for permanent positions.   In addition to his work at advising, Rommel is also an active mentor of undergraduate research.   He has directed multiple Summer Scholars and Honors thesis projects in various areas of applied mathematics.  Congratulations, Rommel!
Dr. Brent Smith
Dr. Brent Smith of the Marketing has in the period under review produced two peer-reviewed edited volumes and many book chapters and scholarly articles, of which he is the lead author. He has also launched a new peer-reviewed journal— International Journal of Marketing and Sales Education—as its founding editor- in-chief. An expert in the intersection between marketing, culture, and ethics, Dr. Smith's work as an editor and an author specifically addresses the potential for global business to cross cultural boundaries. His single- and co-authored works under peer review are bolstered by a host of manuscripts in progress, suggesting that his contributions to the field will be as long-lasting as they are wide-ranging. Because of his contributions to his field and his work in furthering a model of business scholarship that is attentive to ethics and mission, we are pleased to award Brent Smith a Faculty Merit Award for Research.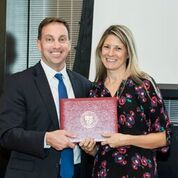 Dr. Aimee LaPointe Terosky
Dr. Aimee LaPointe Terosky addresses two populations in her research—college and university faculty members and kindergarten through twelfth grade principals—considering how their careers are understood and valued, and the ways in which they navigate, respond to, or resist these judgements. Single-authoring or co-authoring ten peer reviewed articles in the period under review, Terosky is also the co-author of two monographs and three chapters in edited books. She is also a co-investigator and faculty fellow of the Cadre and Faculty Develop Course, part of a two million dollar grant funded by the U.S. Army Training and Doctrine Command. An active presenter and participant at professional meetings, eighteen in the period under review, Terosky demonstrates her commitment to, in her own words, "creating knowledge that not only broadens our understanding about educational leadership but also fosters a sense of responsibility for social justice and the public good in educational contexts." For her ability to work within her two complementary fields in tandem and the productivity she has demonstrated in her scholarship, we are delighted to award Aimee LaPointe Terosky a Faculty Merit Award for Research.
Dr. Brian Yates
Dr. Brian Yates has produced a steady stream of high quality publications in selective, peer-reviewed journals, establishing himself as a leading international authority on Ethiopian history. His publications focus on the impact of constructions of ethnic and gender identities on the making of modern Ethiopia. In addition to his several peer reviewed articles and forthcoming essays, his book manuscript on the role of the Oromo people in the making of modern Ethiopia is also complete and under review by publishers. Dr .Yates has also cultivated a second line of research that contributes to an ongoing scholarly debate on global culture and the construction of black identities, as evidenced by his forthcoming article on Reginald Hudlin's Black Panther graphic novels in the innovative on- line multimedia journal FIRE!!!. For his high-quality work, the pace of his scholarly achievement, and his role in advancing his field of research on an international scale, we are happy to award Dr. Brian Yates a Faculty Merit Award for Research.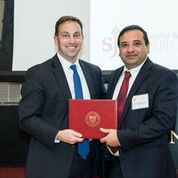 Dr. Rajneesh Sharma's
Dr. Rajneesh Sharma's service to Saint Joseph's University, his colleagues, and our students is truly meritorious. During his time at Saint Joseph's, Dr. Sharma has served on 18 university-level committees, 12 school-level committees, and made countless contributions to the Department of Finance. In the last two years alone, Dr. Sharma has meaningfully contributed to over one dozen university-level committees as well as four committees in the Haub School of Business.
While a full accounting of Dr. Sharma's service to the University would consume the rest of the afternoon, I would like to share some of the highlights. Dr. Sharma brought his expertise in assessment of student learning to the Middle States Progress Report committee and was responsible for writing a continuing report for Middle States accreditation. He brings this same expertise to the Institutional Effectiveness Committee, which is responsible for all academic and non-academic assessments at SJU. Dr. Sharma is currently serving on the Board of Rank and Tenure, which makes among the most important decisions to be made on campus and involves a significant time commitment. Dr. Sharma also served as a contributing member of Learning Management System Committee, Academic Calendar Committee, and Google Mail Project Steering Committee. In addition, he has offered his expertise and served on Retirement Plan Consultant Selection Committee and Retirement Plan Committee. He has also been involved with Faculty Advisory Board for Office of Teaching and Learning and Environmental Science & Sustainability Program Advisory Committee. Somehow, in between all of these commitments, Dr. Sharma made the time to be one of the chairs of Dr. Reed's inauguration committee.
In the Haub School of Business, Dr. Sharma has taken on the critical role of director of Assurance of Learning. In addition to helping ensure students are meeting the learning outcomes that we set for our courses, this role is very important to maintaining accreditations with AACSB and with Middle States. Dr. Sharma is also the Director of the Wall Street Trading Room, a unique learning laboratory in Mandeville Hall used for classes for our students and members of the SJU community.
Lastly, Dr. Sharma is engaged in meaningful service in the Department of Finance. Most notably, he was instrumental in developing the Real Estate Finance minor recently launched by the Department.
He is a fixture at Saint Joseph's events for alumni and students, always representing what is great about our faculty colleagues at SJU.
We commend Dr. Sharma's commitment to finding where his interests and talents meet the needs of the Saint Joseph's community and stepping into that place to make a considerable difference.